This Yansh Heavy : – Whitemoney says after lifting fellow housemate, Mercy Eke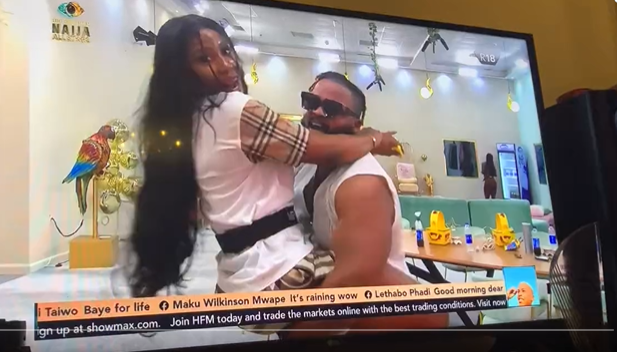 In a recent video released from BBNaija's Season 8 All-Star Edition, there's a lighthearted moment that has captured attention.
Whitemoney, one of the housemates, was seen playfully lifting Mercy Eke and carrying her around in the Big Brother house. This playful gesture has sparked interest among his fans, who are sharing their thoughts in the comments section.
Here's what some of them had to say:
@larry_chockode: "This person has a partner outside the house."
@Ssss7ssss4: "You better be cautious because all these housemates are making observations about her that we don't actually see her doing. Don't make unfortunate decisions."
@Ugosilkomo_SA: "While we adore their bond, it would be best if Lambo (Mercy) puts in her all. However, it's pretty clear that Whitemoney might have a crush."
@teniola_daniels: "It's unfortunate that she doesn't get as much screen time as the others. Even when some are sleeping, they're on screen. The production team needs to step up, especially since this is an all-star edition."
@Ucheluvy: "Mercy Eke is constantly providing positive highlights throughout the day."
It seems this playful interaction between Whitemoney and Mercy Eke has stirred up a mix of opinions and reactions from fans, highlighting the ongoing dynamics within the Big Brother house.