I am now ready to Pull up in front of Davido's house in Atlanta" – Davido's alleged 5th babymama Anita who is Pregnant reveals!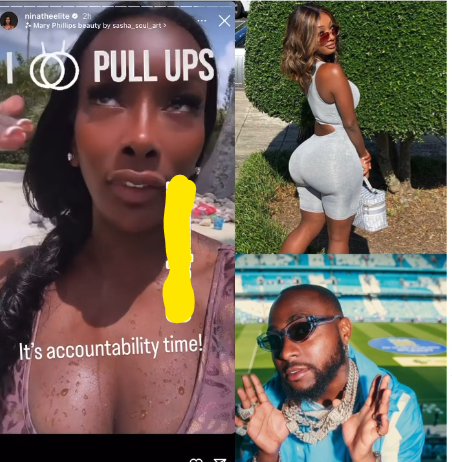 Anita, the alleged 5th babymama of renowned Nigerian singer Davido, declared her intention to confront him at his residence in Atlanta.
Anita's posted on her Instagram page, revealing her attention to confront davido face to face in order for him to take responsibility for impregnating her.
Her post caught the attention many social media users labeled her a "dramatic clout chaser" and questioned why Davido would involve himself with someone known for seeking attention.
Seee more reactions below:
@uche: Davido is really In trouble where this girl dey o. Uneducated black American women are the worst people to impregnate. You'll pay child supoose you go tire. The child support money you're paying them, they'll use it to find their lifestyle while keeping a side man. It's really unfortunate.
@chonsauto: See as person face be like fatal accident 💔🤦‍♂️, you put muscle for NYASH , come forget to put fat for hand and also forget to fix your hair line 😂😂😂… obsessed Queen Margot
@speakout: When you want to date, these are women you need to avoid completely:
– women who live for the gram.
– women who are broke and entitled.
– women who are in a competition with their friends.
– the wannabe baddies.
– women who are feminists.
– women who sell their body.