The Reason This Brother & Sister Duo Just Shaved Their Heads Together Is the Definition of Selfless Love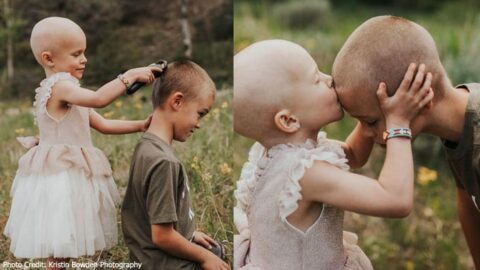 In the words of one heartbroken mama watching her son Beckett battle cancer, "One thing they don't tell you about childhood cancer is that it affects the entire family."

"You always hear about the financial and medical struggles, but how often do you hear about the struggles families with other children face?" she questioned.
Her then 4-year-old, watched as her once resilient baby bro vomited between play sessions, woke up in the middle of the night to throw up, and shriveled from 30lbs to 20lbs—all while standing by his side, rubbing his back to ease the pain.

"This is childhood cancer. Take it or leave it," she wrote.
While childhood cancer is absolutely horrid, draining, and devastating for the whole family, there is one sibling duo that's trying to bring beauty from the ashes.
3-year-old Lula was recently diagnosed with Stage 2 Welm's, a rare kidney cancer, in March of 2020.

After completing round 11 of chemo, her family knew it was time to prepare her for the hair loss that was soon to come:

"We knew it would take her hair, so we started preparing her by saying, 'We may have to shave your hair really short!' She'd reply with, 'Let's do it tonight!' She didn't let it phase her even when she started brushing out handfuls of hair daily," her mom explained.

But Lula's big brother wasn't about to let his lil sis go through that kind of painful life event on her own:
"The night we decided it was time, her big brother Kohen didn't blink an eye before saying, 'I'm shaving mine too!'"
"He let his sister shave his off along with hers so she wouldn't endure it alone," wrote the proud mama.
"He is the best brother," she added. "So caring, kind and compassionate."

"Lula got to shave his whole head and she couldn't help but rub it and kiss his head when it was finished."
"I'm so happy they have each other, through thick and thin! I am so proud of my babies."
We certainly are too!

Kudos to this selfless big brother and his brave littler sister who have shown us in bright picturesque color what it looks like to let a little love and joy shine through the cracks of tragedy.