Tafida: I knew Okadigbo would fail as Senate President, says Ararume's N100,000 gift did 'magic'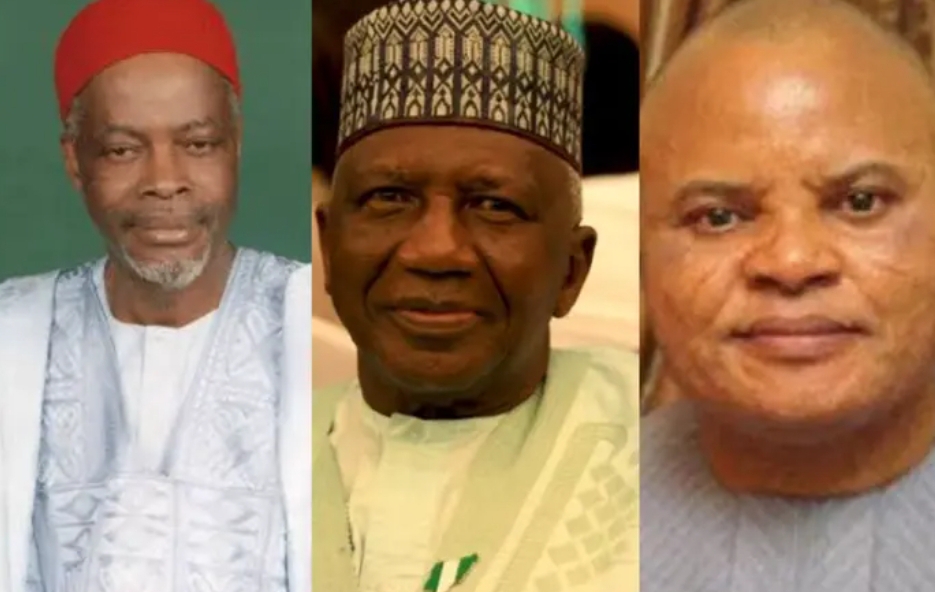 Tafida I knew Okadigbo would fail as Senate President says Ararume s N100 000 gift did magic
Okadigbo, Tafida and Ararume
Former Majority Leader in the Nigerian Senate, Dalhatu Tafida, has opened up on Chuba Okadigbo's brief stint as President of the Senate between 1999 and 2000.
Tafida, who was a Minister of Health during the military regime of late General Sani Abacha, said he knew from day one that Okadigbo would not make a good Senate President despite his level of intelligence.
Speaking in an interview, Tafida went down the memory lane on he received N100,000 from Ifeanyi Ararume to support his presidential ambition during the aborted third republic, saying the unexpected money helped in a great deal to persuade Imo's politicians to back his ambition under the defunct National Republican Convention (NRC).
He said : "So they said there would be a convention to select only one person for the presidency from the National Republican Convention (NRC). We met in Port Harcourt.
"I represented Kaduna, Tofa represented Kano and Wilberforce Juta represented Adamawa. So we saw people coming from every state—one person each, brand new politicians. It was interesting. It looked like I was popular because the suite I was given was central and people were coming there and going, day and night.
"From there, I went to Imo. Somebody gave a plane to go round the South. The plane would come and pick me and my people to go round. When I went to Owerri, while in a hotel, somebody called me and asked, "Are you Dr Tafida? I said yes and he said, "You are coming to see us (politicians in Imo) tomorrow, how much are you giving us?"
"I was giving every state N50,000, which was big money at that time. He said they would not accept that amount. I said, "That's what I have, if I give it to you, you can give it to some of your boys." He said they wanted me to give them N100,000, but I said I didn't have it. He said he would give me the money. And I didn't know the man. I asked how I would get the money and he said he would bring it to my room and drop it. He also said I should keep my money (the one I wanted to give them). I was surprised.
"In the night they knocked at my room, and when I opened it, they said somebody came to see me with a small box. At that time, N20 was the highest denomination; so they gave me N100,000 to give to politicians. I asked his name but he said, "You don't have to know my name." I insisted before he said his name. He was an Igbo man. So I got to know him and we became very close afterwards.
"He wanted me to win so that I could be of use to him. I went and dropped N100,000 for them. Of course I lost the election.
"One day, after Abacha appointed me as minister of health, I was in my office in Lagos when they said two people came to see me. I asked for their names; they were Igbo men. It happened that one of them, Ararume, was the man who gave me N100,000.
"He wanted something from the ministry, which I gave him."
Asked if the Ararume was still around and close to him, Tafida said :
"He is still around. We went to the Senate together in 1999, but we parted ways because he was following Chuba Okadigbo. I knew Okadigbo very well. He was with Shagari as his adviser and I was the president's physician, so I knew he would not make a good Senate president. He was very intelligent, but I said I was not going to support him.
"All the people that surrounded Okadigbo tried to convince me to support him, but I said no. Our group won, but after 9 or 10 months, Enwerem was ousted and Okadigbo came in. But he didn't even stay more than 9 months and he was ousted from the Senate."
On the alleged third term bid by former President Olusegun Obasanjo, Tafida, who also later became Nigeria's High Commissioner to United Kingdom, cleared the air on his role and that of then deputy Senate President, Ibrahim Mantu, during the third term campaign.
He said: "It wasn't like that, in the sense that I was not even visiting the Villa, let alone being close to Obasanjo. It was Mantu who was known to be very close to him. I was not part of that.
"The chairman of the party, Colonel Ahmadu Ali (retd) came to my office several times to talk to me and I said I would do my best, but really, I wasn't doing my best because I knew the thing would not fly. We crashed the whole idea in the Senate. You know the processes a bill has to go through to be read the second time.
Asked if Obasanjo really wanted a third term, Tafida said: vThere is no question about it. He called us and we planned how to go about it, but we told him the idea would not fly. We told him that all the governors making promises to him were not in good terms with their senators, so they would not control them.
"There was a night Obasanjo called us—the Senate president, myself and Mantu, the speaker of the House of Representatives, deputy speaker and the house leader—about this third term bid and said he wanted to travel outside the country and would be back in three days, but he wanted to know what was actually happening. I told him that all the governors who said they were with him were only deceiving him. I said he should really try to find out. We are all equal in that chamber, so once we got there, anybody could tell anybody anything. That night, he couldn't travel because he wanted to make arrangement to invite the governors to receive the chief of staff, Abdullahi Mohammed early in the morning."