She is Beautiful: Nigerian man left Surprised After Seeing a female Mechanic For the First Time Ever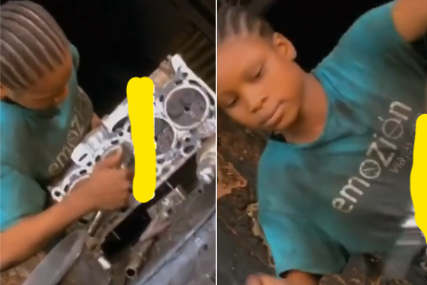 A Nigerian man had a surprising encounter that left him speechless. He bumped into a female working as a mechanic, and she seemed to be just a teenager!
The man caught the whole moment on video and shared it on TikTok. The clip went viral, and people on social media had a lot to say about it.
Many folks praised the girl for breaking stereotypes and doing a job that's usually seen as a "guy thing." They loved how proud she seemed of her work, and they admired her for not choosing hookup instead she chose to work hard with dignity.
@baba: Go queen, don't let anybody lie to you. You are on the right path and on the long run u will thank yourself for picking a diff path. I admire her and I give her, her flower. Many girls In her age will give all sort of excuses not to venture into this kind of work but I guess this is her passion and what she wants. Go be great dear❤️
However some folks with different views. They pointed out a double standard in how society looks at jobs based on gender. When a lady works as a mechanic, it's called hard work and determination. But when a man does the same job, they say he's "suffering" or "struggling.
@babsneh:
When girl doing this kind work she's hard working girl but when a man doing it you call them poor man 😂 life get as e be
More Reactions below:
@9JA: Wow that is Extra ordinary. Hope men will trust her to handle their cars. Even her fellow gender seg because there are notions that it's left for men alone to be doing this kind of job
@alex: You all have to be specific what yoy want, if she is doing hookup, you all will talk and now she is doing a honest job to put food on her table and you all are talking… abeg free her joor
@only:If na man dY do this kind work. Dem go talk say e dY joke with his life.. but since na woman, she's very hardworking.. women and their PR. 🤭😌
@prankhottieee: Wow such a good job not online boutique vendors who has no physical stores 😂 Abeg let's join hands and contribute for her so she will do it in a big wayb