Sell your G-wagon as Scrap at Ladipo Market so they will use it as spare Parts, the Whole G-wagon is damage – Celebrity Mechanic Advises Portable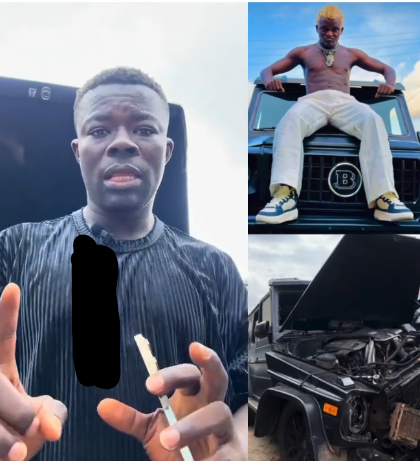 Popular mechanic advises Portable, to sell his severely damaged G-Wagon as scrap at Ladipo Market, stating that the car is beyond repair due to an accident that has greatly affected the engine.
The mechanic, who is famous for working on luxury vehicles, has assessed the damage and suggests that Portable explore other options. Since the engine is in such bad shape, salvaging the car for spare parts is the best choice.
Ladipo Market is known for trading auto spare parts and is a great place for various car brands and models. Selling the G-Wagon as scrap there would allow Portable to recover some value from the vehicle.
However Some people didn't agree with the mechanic's suggestion and thought it was unprofessional. They believed that the mechanic shouldn't announce it that way to the public for all the cars he receives from his clients. They didn't find it funny at all. They imagined how they would feel if they brought their own car to the mechanic's shop and he posted online, telling them to sell it as scrap. They thought it was unprofessional and didn't appreciate it.
@manny: To be honest this guy is being unprofessional, I am very sure this is now how he always announce 📢 to the public on all the cars he receive from his clients . It is not funny . So if I bring car come your shop now you go go post am online they talk say make I sell am like scrab, I swear your mind go touch ground . So unprofessional 🗣️🤐
A social media user were also worried about Portable's driving skills because he has been in multiple accidents, including the recent one with his G-Wagon. They suggest that Portable should go to a driving school and take lessons to improve his driving. They are concerned because this is the fifth car he has damaged, and they fear that if he keeps driving recklessly, someone could get seriously hurt or even lose their life.
@jabucci: If this is Portables G wagon . Then They should make him go to a driving school … and take classes .. this is d 5th car he's destroying .. u can count how. Many accidents he's had in 2yrs .. Until he kills someone' then Nigerian police will put him to order …. this is a big offence in Europe . Crashing 4-5cars in 2yrs .. U will be banned from Driving.😢😢😢😢 only if u live abroad u will agree with me 😡😡😡😡😡😡😡😡😡😡
Watch Video Below: