Proud Dad Moment: His Kind Sons Asked Him To Stop Car So They Could Help Man In Wheelchair Shovel His Sidewalk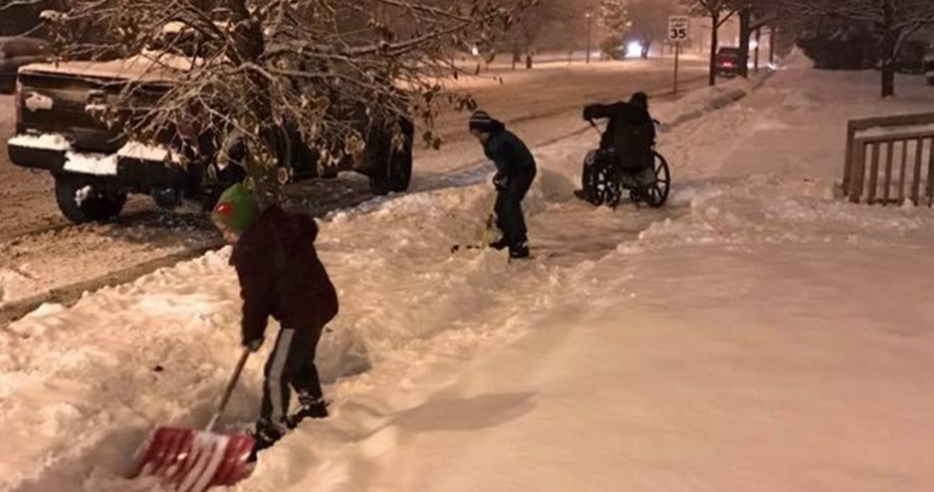 One of the greatest moments of being a parent is when we get to see just how kind and pure the hearts of our children really are.
While driving his sons during a snowy night in Wisconsin, proud Dad Daniel Medina said that his 10-year-old and 6-year-old sons ask him to pull over because they saw a man in a wheelchair shoveling his sidewalk and they wanted to help:
Proud dad moment," Daniel wrote. "we're driving down s60th st near Morgan and my two sons aged 10 and 6 asked me to pull over because they just saw a guy in a wheelchair trying to shovel his corner lot and they wanted to help."
He said okay, and his two kind boys got out of their car and helped the man shovel his walk, and their proud Dad took this picture.
Children naturally have open and pure hearts that are inclined to sweetly love others. If your children propose an idea of kindness to you, regardless of how creative, realistic or cute it is, try to encourage and support them in it. These little seeds of kindness can grow children into wonderfully compassionate teenagers and adults who will make the world a kinder place for all.
Have you had an experience like this before with your children?