Peppe Dey Anointing Oil: Pastor Seen Anointing Church Members With Full Bottles Of Anointing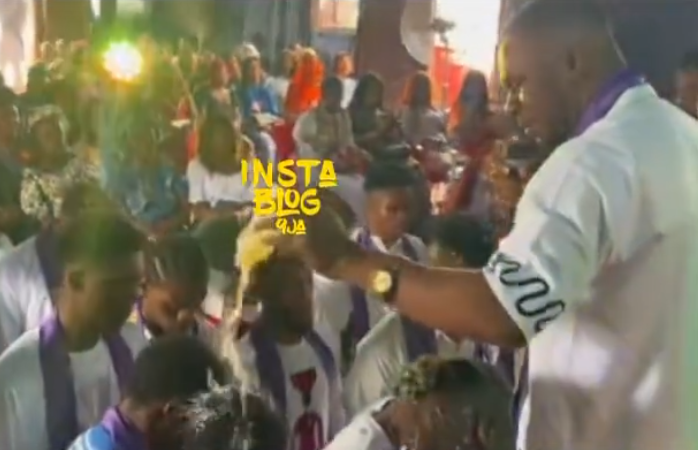 In a shocking video that has taken social media by storm, a pastor can be seen performing an unusual anointing ritual on his church members. The footage captures the moment when the pastor poured a full bottle of anointing oil on several congregants who stood in close proximity to the altar.
The video, which quickly went viral, has sparked a heated debate among netizens regarding the pastor's actions.
Many viewers expressed astonishment and disbelief at the extent of the anointing oil being used, questioning the necessity and efficacy of such a dramatic display.
amakachibuzoobi:
What EXACTLY is the point of all this? Why is it only boys kneeling there, being "over anointed"? Which doctrine exactly, says you must 'baff' people with oil for prayers to be answered? Too many questions! People these days practice Christianity with a touch of Juju and sprinkling of Fetishism!
b.am.i_9 :
Once you believe that you are not in charge of your life and some external invisible force is. Its just proof that you are a victim of mental slavery. You don't need to be in physical chains to be a slave. The mental blocks /restrictions put in your head by religion is worse than any chain you can think of
Witnesses present at the church service reported that the pastor took each member individually, held up a full bottle of anointing oil, and poured its contents over them.
The recipients stood motionless as the oil cascaded down their bodies, while the congregation watched.