Nigerian Lady set to Break Guinness World Record, She plans to stay Indoors for 168 Hours Nonstop without Pressing her Phone or stepping outside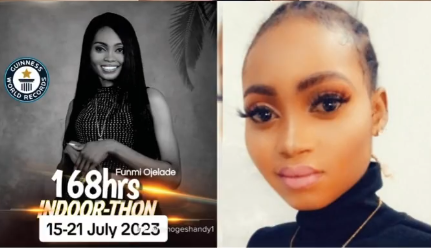 Nigerian lady Funmi Ojelade from ogun state, plans to set a Guinness World Record by staying indoors for a full week without using her phone or going outside.
Funmi Ojelade, known for her strong determination, is aiming to achieve something extraordinary.
She will attempt to stay inside her home for 168 hours straight, without using her phone or stepping outside, in order to break a Guinness World Record.
Funmi's challenge will test her endurance and self-control as she resists the temptation to use her phone and resist the urge to go outdoors.
If successful, she will join the esteemed group of record holders who have accomplished remarkable feats.