"If You Would Have Waited, He Would Be Dead": Mom Warns Parents After Son's "Small Infection" Proves Fatal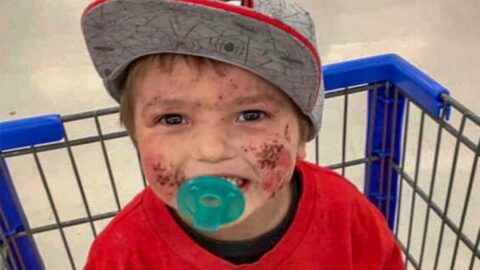 Kekoa was born at 34 weeks, and although he spent 3 weeks in the NICU, we assumed this would be our biggest struggle. We were wrong. By 6 months, he started developing a rash we couldn't get rid of. At this point, he was diagnosed with eczema they said would go away with age. We went on our way.

At age one and a half, we noticed it started to get worse. Knowing he had allergies, we started seeing an allergist and a dermatologist. We worked side by side trying new meds, even doing a week stay in the hospital hoping to get him some relief.

By age 3, we started noticing the rash getting worse and becoming more consistent. We realized it wasn't going to go away like they originally said.


One day, while walking through Walmart, we noticed his body becoming swollen and infected. We figured, just like every other time, we would go to the doctor, they would give us meds, and then send us home. We called and they got us in right away. By the time we got to the doctor, his fever had gone up to 101.5. Since it around the time when the flu was going around, I didn't think anything of it.

'Do not go home. Do not stop. Go directly to the hospital, and they will be ready for you guys.'
At this point, I knew it couldn't be good. We are usually sent home with antibiotics and come back a few days later. This time was different.

We drove the 30 minutes to the hospital where the staff took us directly back, drew blood, inserted an IV, and started antibiotics. I knew he was sick, but assumed it would only be a couple days before we would be home and my baby would be feeling better.

One of the blood tests they drew was a blood culture which checks for infection in the blood stream. These typically take three days to get back, with a preliminary result in 24 hours. Working in the medical field, I knew if they were doing it, they assumed much more was wrong.

The next day, only 12 hours after the blood draw, the doctor came in informing us, 'You will be at the hospital for a while. You are lucky you came in when you did, because if you would have waited, he would be dead.'

What I though was a small infection, was actually a big one. It got into his blood stream, causing a Strep A blood infection. When we arrived to the hospital, his kidneys were shutting down, and his temperature had gone up to 104.7. We spent four weeks in the hospital, in which we watched him go from being okay to very, very ill, and eventually well enough to come home.

It was his ECZEMA which almost killed him. We now monitor him closely and take him in at any sign of being sick. He still suffers from head to toe eczema. We have become a voice for kids like him. We work hard to allow him to have a normal childhood. He doesn't get to go to school, and he doesn't have many friends, but we are praying and working with doctors to make him better.


He is looked down on, talked about, told he is 'scary,' and yet he is the happiest and strongest kid I know. He doesn't let the other people get him down.

He was formally diagnosed with Eosinophilic Esophagitis (EoE), which is a chronic, allergic inflammatory disease of the esophagus (the tube connecting the mouth to the stomach). It occurs when a type of white blood cell, the eosinophil, accumulates in the esophagus. The elevated number of eosinophils cause injury and inflammation to the esophagus. Having this diagnosis gives us a new direction and hope for a cure.

We want to spread awareness. No kid should have to live a life being uncomfortable in their own skin. No one should worry about being bullied or people not playing with them because of what they look like."