For Refusing To Assist Him During Exam, Student Attacked His Colleague Injured Him On The Head In Revenge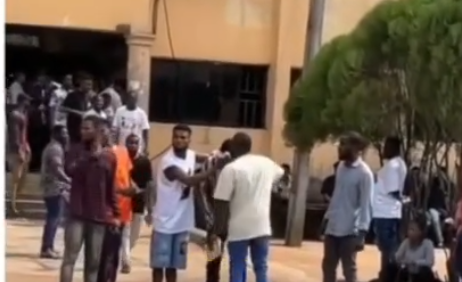 A trending video posted on Instagram has garnered massive engagements, showcasing the aftermath of a student who was brutally assaulted by his colleagues.
The incident took place in Imo State and has raised serious concerns about academic integrity and violence on school grounds.
According to an eyewitness account, the unfortunate incident unfolded during an exam when one student sought assistance from his fellow classmate to cheat. However, the integrity-conscious student firmly adhered to the rules and regulations, refusing to engage in any form of cheating during the exam period.
Fueled by anger and revenge, the student who was denied assistance launched a violent attack on his colleague immediately after the exam. The disturbing video footage captures the harrowing moment when the angry student struck his fellow student, causing visible injuries to the victim's head.
Net-zens were upset by the incident and reacted strongly. They questioned why the attacker didn't focus on studying for the exams instead of resorting to violence.
Net-zens asked , "When he was preparing for the exams, where were you?" They believed that the attacker should have been responsible for his own studies and not relied on cheating or others' help.