Father Terrified by Caller Pretending To Be His Daughter in Distress; Goes To Pay Ransom Money To Save Her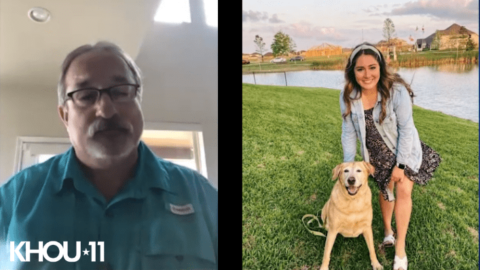 Voice cloning technology is pretty incredible, and it has the potential to be helpful and useful to people in various ways. But, as one family in Texas found out, it also has the potential to do a lot of harm.
Family Scammed With Voice Cloning Technology
Meet John Bridges, husband and father. On Saturday, March 26th, John was minding his own business at his home in Pearland, Texas, which is south of Houston. As he was eating his dinner, he received a call that immediately terrified him and set him into action.
It was a scammer, but Bridges didn't know this because the voice on the other end claimed to be his daughter, Brittany, and sounded just like her.
Bridges explained to news reporters, "I answer it, and it's someone crying."
The voice that sounded just like Brittany claimed to have been in an accident and pleaded for help. That voice was not an actor who was lucky enough to sound like Bridges' daughter. Police believe scammers used voice cloning technology to recreate Brittany's voice, but with the words they wanted to use to manipulate her father.
According to Bridges, the voice said, "I've had an accident, daddy. Help me."
And what happened next took Bridges' fear to the next level. The voice of a male then began to speak, saying that he was holding Brittney in his car and if Bridges' didn't stay on the line and listen carefully, doing everything he was told, he might not see his daughter ever again.
"When he was telling me I would never see my daughter again, it was terrible," Bridges explained.
So he complied.
"It was her," he explained his thinking. "It was her voice. I know it was."
The scammer gave Bridges an amount of cash to get and a specific grocery store where he was to bring it, threatening consequences if he drew attention to himself. Once at the store, the scammer directed Bridges to wire the cash to Mexico.
Bridges said, "My mouth is dry and my heart's beating 100 miles an hour," when he was on the phone with this scammer.
Only Bridges' wife and other daughter suspected that something wasn't right and as he was in the process of following the scammer's directions, flagged down police and contacted Brittney.
The police informed them the phone number was generated on the internet and the call was a scam, and Brittney called her mother to let her know the story was untrue.
Guy"I was just, like, 'I'm OK. I am fine,'" Brittney explained. "I couldn't believe it."