Fact-check: Was Kaduna Deputy Commissioner of Police Caught Supplying Fire Arms to Kidnappers?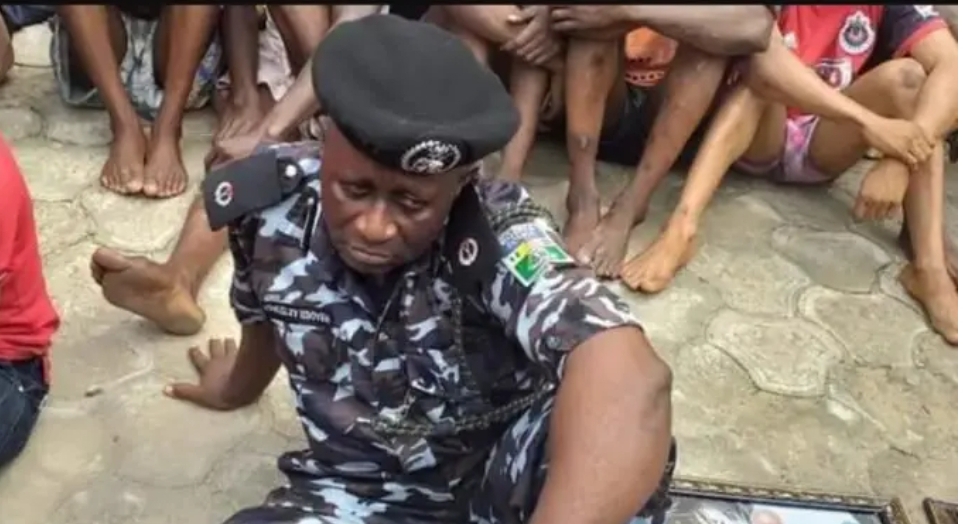 He was impersonator in police uniform caught in Akwa Ibom
Fact-check: Was Kaduna Deputy Commissioner of Police Caught Supplying Fire Arms to Kidnappers?
Claim: A photo of a uniformed man sitting on the ground in front of a group of suspected criminals is circulating with the claim that he is Kaduna State assistant commissioner of police who had been arrested for supplying arms to kidnappers.
Full Text: Thousands of Facebook users have shared a picture that supposedly shows an assistant commissioner of police arrested for aiding kidnapping operations in Nigeria.
Dozens of different Facebook posts shared the claim here, here, and here among other blogs and social media platforms that lifted and shared it.
According to a Facebook post by Araba Kayode, it is the image of a deputy commissioner of police in Kaduna State and his accomplices arrested while supplying weapons to kidnappers.
Verification: PRNigeria ran a Google reverse image search, which led to several results that revealed a pattern.
First, the image has continuously been circulated with the same claim since 2021 and has even been published out of context by popular Nigerian blogs, including GistMania, and on the home-grown social network Nairaland.
Secondly, further digging by PRNigeria shows that the same image has been a subject of several fact-checks in 2021 by Daily Trust, Africa Fact Check and AFP Fact-check among other verification platforms.
Additionally, there were several news reports with mixed narratives associated with the image.
Several reports published in 2019 show that the man from the image in question was arrested in January 2019 for impersonating a police officer. Then spokesman of the Nigeria Police Force, CP Frank Mba, who was then a deputy commissioner of police had said, "The suspect in police uniform with the rank of an assistant commissioner of police, is one Kingsley Udoyen, male, 56 years, of No 3, Stadium Road, Abak, Akwa Ibom State. He is a fake police officer and not a serving assistant commissioner of police."
Authoritatively, PRNigeria can report that the image first appeared online on 25th January 2019 when a report surfaced that the police have arrested a man accused of defrauding members of the public by pretending to be an assistant commissioner of police in Akwa Ibom State.
The Commissioner of Police in the state, Musa Kimo, paraded the suspect before journalists in Uyo on Thursday. He gave his name as Kingsley Udoyen.
Mr Kimo said Mr Udoyen, who resides at House 3, Stadium Road, Abak, was arrested on January 2.
The suspect has been using the fake police rank to threaten and defraud unsuspecting members of the public, Mr Kimo said.
"A search in his house led to the recovery of one English pistol without magazine and ammunition, portraits of chief superintendent of police and assistant commissioner of police, three pairs of uniform, police belt, fake police ID card, and other documents," the police commissioner said.
He said several other suspected criminals have been arrested in the state for robbery, murder, and cultism.
Conclusion: The man in question is simply an impersonator in police uniform who was arrested in Akwa Ibom in January 2019 and not Kaduna. The claim is therefore false.