I'm in Pain: Using Herself as an Example, Woman warns Her Gender Not to Allow Men Encourage Them to Enhance Their Bodies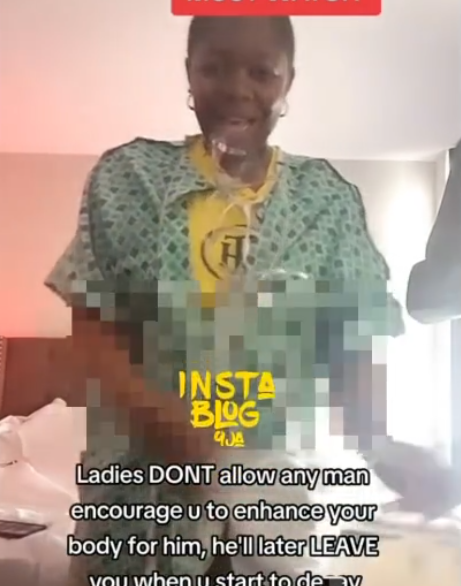 A woman has come forward to share her harrowing experience after undergoing a body enlargement procedure. The unidentified woman, who wished to remain anonymous, has issued a strong warning to ladies who may be facing pressure from their partners to enhance their physical appearance.
According to her account, she was allegedly pressured by her husband to undergo a backside enlargement procedure, which she eventually agreed to, hoping to please her spouse.
However, the decision has proven to be nothing short of disastrous, as she is now experiencing excruciating pain and severe swelling throughout her body.
Her ordeal has sparked a heated debate in social media communities and below are some reactions by netizen:
Vitorious: No responsible man will ever encourage you to touch ur body in anyway just to look good. If a man don't like you the way He meet you. Then let him go to hell.
Oyetola: Madam at your big age, you were influenced by a man to alter your body, so you don't have a mind of your own at your old age??
@lola: God forbid bad thing, anybody born of a woman wey no like my fupa and my hip dip and small bumbum like this can go and perish PS: incase you are craving for enhancement surgery , kindly watch the procedure on YouTube before making any moves, you're doing yourself a big favor staying the way God Created you, you see all this their fine pictures?? They'll never tell you what's going to happen to you after, eeiii the pain you'll go through, you'll beg God to take your life 📌
@omowumi: Na mumu dey enhance body for man. Any man that asks you to go under a knife just to have yansh and flat tummy. He doesn't like/love you. Make he move forward to those that have it. Its not worth it risking your life for any
@omo: Woman don't necessarily do this for men

1, it's a trend for them
2 , it's a competition
3 , they want to show who can afford it , therefore if mary, ify, mercy , joy, ada , chioma, Ayo , Vivian, aduni, Adesuwa, Nkechi, Gloria etc .
If they have all done it and had the money to do it ,
Michele will say I too must do it.
I believe doing it for men comes last .
As the case maybe .
I hope this makes sense .
It's unfortunate this things is happening almost every where people going to fix beautiful body that God gave them . May God help us