Woman Cries out begging her Daughter to come out of hiding after she stole Gold worth Millions from were she was working Police now arrested her as Collateral till her daughter comes out of hiding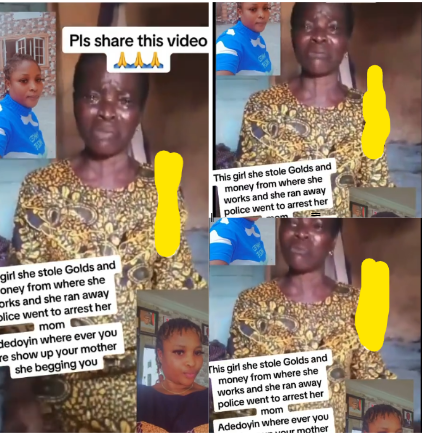 A Nigerian woman has made a heartfelt plea for her daughter, Adedoyin, to come out of hiding following her alleged involvement in a daring gold theft. The incident has led to Adedoyin's subsequent arrest by the police, who are now detaining her as collateral until she turns herself in.
The woman has been left devastated by the actions of her daughter, as she tearfully beseeches Adedoyin to face the consequences of her alleged crime. The incident occurred at a place of employment, where Adedoyin is said to have illicitly obtained gold items with an estimated value reaching into the millions.
Local authorities, upon receiving reports of the theft, swiftly launched an investigation, leading to the apprehension of Adedoyin. However, their attempts to locate the stolen gold have proven fruitless thus far. As a result, the police have resorted to detaining the woman as a form of leverage, in hopes that her daughter would come out of her hiding .