Traders Miraculously Escape Death As Trailer Crashes Into Shops In Ondo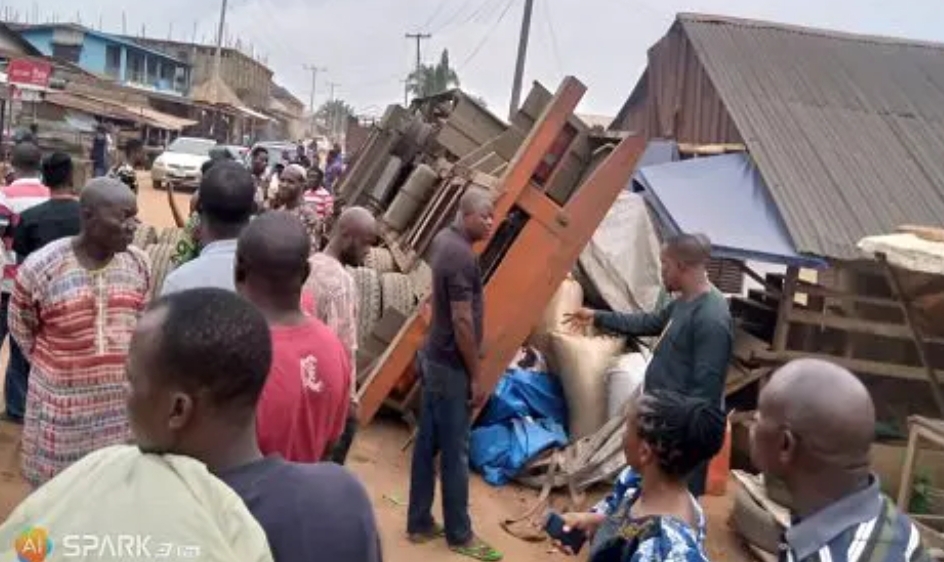 It was a miraculous escape for traders at the popular Adebowale market along Ondo road in Akure the Ondo State capital in the early hours of today when a fully loaded trailer truck fell off crashing into some shops.

Eyewitnesses said the accident would have been fatal if it had occurred during the day with traders and passersby around.

The distressed traders, whose shops and goods were completely destroyed, appealed to the government to come to the rescue by constructing the major road linking the Adebowale to Aponmu community.

One of the shop owners, Mrs. Rahmat Ashimolowo, who was still in shock over the incident, said accidents on the road especially that of trucks had become a daily occurrence.


On his part the Chief Imam of Aponmu land, Mukaila Ashiru observed that over one hundred trucks ply the Adebowale-Aponmu road on a daily basis, appealing for the quick construction of the road to avoid further disasters.


Former chairman, Information Village, Adebowale Community, Mr. Lanre Oluwateru revealed that the community did its best by fixing a portion through communal efforts but it was inadequate as the community now accommodates many people, factories, and other companies.


Mr. Oluwateru said the road was very important to farmers in Aponmu, Ita Oniyan, and other farming communities for transporting their produce.

Isaac Afolabi