Stop Throwing Br@s At Me: The moment rapper Drake begged fans to stop throwing br@s at him during a recent concert in the U.S.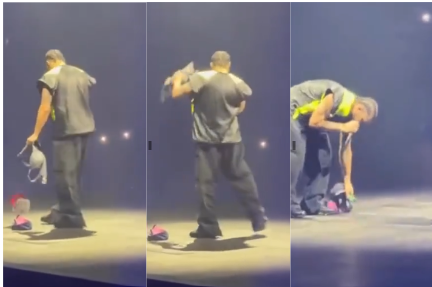 During a recent concert in the United States, popular rapper Drake found himself in a peculiar situation when enthusiastic female fans continuously threw bras at him.
In a video that has since gone viral, Drake can be seen picking up the bras that were allegedly tossed onto the stage by excited concertgoers. However, instead of embracing the gesture, Drake took a moment to address the situation, pleading with his fans to refrain from throwing bras at him.
The video captures the rapper's genuine surprise and slight discomfort as he collects the bras from the stage floor.
Drake's polite request for the female fans to cease this practice, however, did not deter them. Despite his plea, they persisted in showering him with bra's throughout the concert.