Stop looking for my Husband" – Nigerian woman Gives Her Oyinbo Neighbor a stern Warning for always coming to look for her Husband (Video)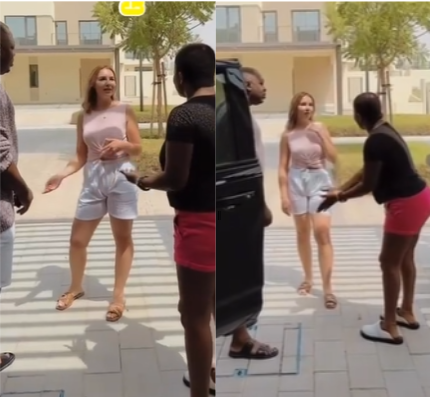 A Nigerian woman residing in Dubai is caught up in a controversy with a white neighbor who visits her home frequently in search of her husband.
According to the woman, who shared her side of the story in a video that has since gone viral, the white lady has been consistently visiting her house in an attempt to locate her husband. At first, the Nigerian woman assumed the visits were related to some shared matter between the white lady and her husband.
However, as the visits persisted, it became clear that the intention behind the white lady's actions was more than just innocent interaction.
In the video footage capturing a tense exchange between the two women, emotions run high. The Nigerian woman is seen passionately expressing her frustration to the white lady in the presence of her husband.
She sternly warns the white lady to cease her attempts to connect with her husband, asserting her desire for such interactions to come to an end.

In response, the white lady appears taken aback by the Nigerian woman's strong reaction. She questions why she is being treated with apparent hostility.
Below Are Some Reactions Netizen:
@wendyabdul:
This happening in Dubai or I could be wrong first of you are not allowed to record anyone in dubai without their consent if this lady sees it she can sue the Nigerian lady infact no need to sew she just needs to show dubai police and that's evough evidence.
2. Secondly she's either from East Europe from the accent, well she has a crush on him definitely and most of these girls do like African guys but she just approached the wrong one because he's married, that's another case in dubai court. Unless all this is not a skit oo. All I'm going to say is this women should be very careful and what she has done is the best thing tell her off and now she knows that there is evidence she won't try it again. Most of these girls are very very bold and they don't care. I don't know how I can explain it I've met nice east European girls the others are just mean.
@nnenda__sexy:
Good as you straighten her in front of your husband cuz the heck is all of that for??? Before you know it now it will turn to something else, you don't come to look for the wife but it's her husband all the time as what?!? If you need a ride, book a taxi for Christ sake he ain't your driver. So much nerves. By the way why is your husband sugarcoating the words?? Ogbeni tell this white Maria lady to stay off for good no Dey run around the words. Meanwhile where the Maria handle sef?? I just wan see something
@inbetweencontinents:
If this is real and if it's uae like I suspect it is! Then someone needs to advise this lady about the severe implications of posting someone without their consent according to the UAE 🇦🇪 laws! Secondly, the lady recording has the right over her husband and I'm not sure why the neighbor wasn't understanding!
Finally, this whole thing could be staged and my opinion doesn't even matter 😂! Otherwise, recording someone and posting without their consent in the UAE? Phew 😮‍💨 "you go explain for Al awir"
@Edu:Lol shey na the this same woman wey use tape wrap round her Tommy the other day? That they were in her husbands Dm? Na oyinbo want epp am drag her man now? Just look at the weyreh oyibo even being silly and having the audacity to tell her that only her husband can tell her not to look for him 😂😂😂😂.
Nawao