Shallipopi is a thief, he does not know how to sing, he is using Streaming Farm, I was taken to Prison and I did not Top chart, Shallipopi – Portable Drags the living Daylight out of Shallipopi (Video)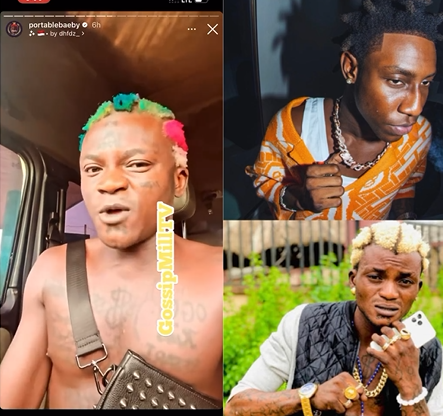 A big disagreement has happened in the music world between Portable and Shallipopi. Portable says that Shallipopi is a thief and can't sing well.
He accuses Shallipopi of using something called Streaming Farm to cheat and get more people to listen to his songs. Portable also shares that he feels unfairly treated because he went to prison while Shallipopi became popular on the music charts.
But instead of staying angry, Portable does something surprising. He offers to teach Shallipopi how to sing better and wants to sign him to his record label, Zeh Nation. Portable says that he can make Shallipopi more famous by helping him.
Now, everyone is waiting to see if Shallipopi will accept the offer and improve his skills with Portable's guidance.
This argument between Portable and Shallipopi has gotten a lot of attention from fans and people on social media.
People are curious to see what will happen next and how this mentorship offer will affect both artists' careers.