Nigerian man Calls out Whitemoney for carrying Ghana Must Go Bag into the BBNaija All Stars House! Could this be another strategy from Whitemoney?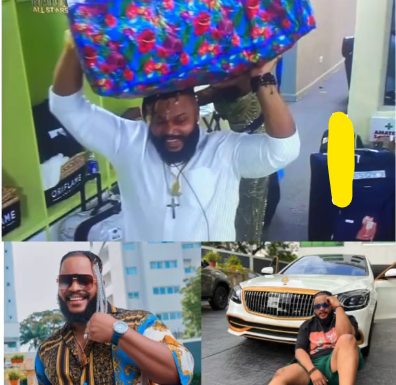 In a surprising twist, a Nigerian man has raised concerns about Whitemoney, a popular BBNaija All Stars House contestant, carrying a 'Ghana Must Go' bag into the show. People are wondering if this is a clever plan or just something curious.
Whitemoney is known for having expensive things, like a Maybach car and making lots of money from deals. But his choice to bring a simple bag has puzzled many. People are guessing what might be inside – some think it could be kitchen tools because he loves cooking.
Whitemoney hasn't told anyone what's in the bag, and this has made fans very curious. As the days go by on the show, the mystery continues to spark discussions online.
We'll have to wait and see if this move helps Whitemoney's game or if it's just a fun thing he did. Either way, it's clear that people are talking about it and eagerly waiting to find out what's in the 'Ghana Must Go' bag.