Kind Stranger Parked Car And Quickly Brought An Umbrella And Towel To Elderly Woman Crossing Street In Rain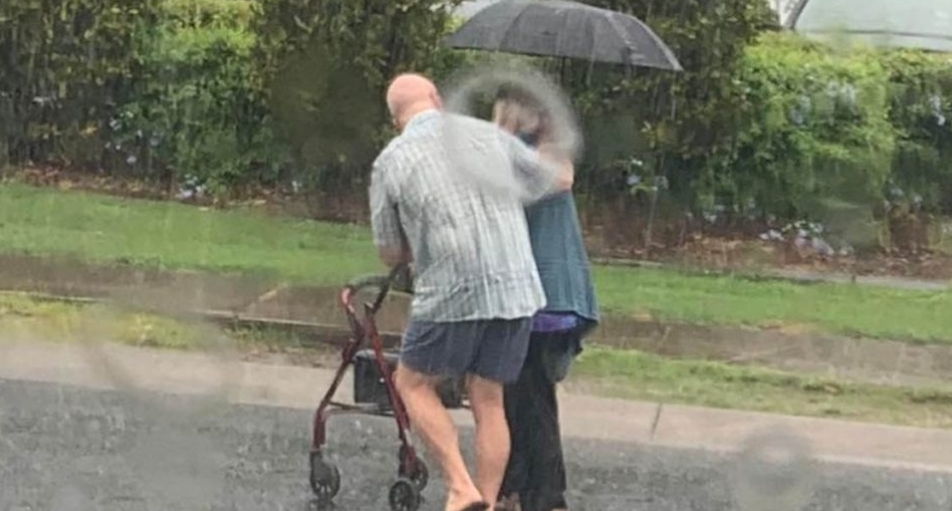 When a kind man saw an elderly woman with a walker crossing the street in the rain, he quickly parked his car, went to her with a towel and umbrella, and while getting wet himself, he walked her to some shelter from the rain.

Andrea Gladwin was driving by Cole's car park in Queensland, Australia, when it began to rain. She noticed an elderly lady walking outside using a walker, who was getting wet and was unable to quickly make it to some shelter from the rain.

As quickly as she noticed the woman, Andrea saw a car in front of her pull over, and a kind man ran out of his car with a towel and an umbrella and brought them to the woman. While getting soaked in the rain himself, he held the umbrella over the elderly woman, and walked with her until she was able to get out of the rain.
"This man is a legend!" Andrea shared in a post online. "He stopped his car at the Coles carpark and assisted this elderly lady across the road and got her undercover using his own towel and umbrella to protect her."
Let us all be inspired by him to assist with random acts of kindness wherever we can."
Thousands of compassionate hearts online have appreciated the stranger's kindness for the elderly woman in the rain.
"This is the news we want to see and hear! Thank you to that man for your kindness," wrote Susan M.
"There are so many examples of people doing good things as random acts of kindness. You just have to open your eyes to see them happen every day," commented Tricia Q.
"This almost made me cry 🥰 now that's humanity right there. Let's all practice being kind every day, imagine what a happy world we'd live in ❤️" shared Kaylene S