Cop Starts Crying After Checking Woman's Car Trunk, What He Found Is Heartbreaking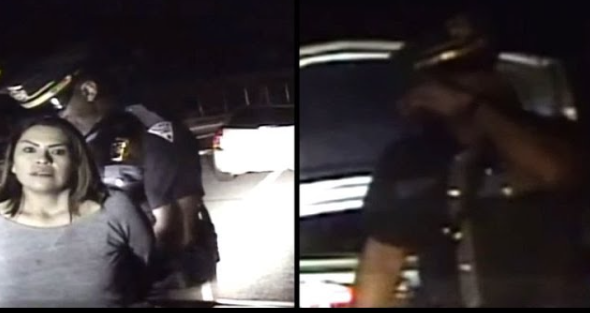 "After a cop pulled over this erratic driver, he signed side the trunk and was overcome. Tobi Lafave is a police officer from Albuquerque, New Mexico. As part of his job, he was used to busting people for offenses such as driving while impaired by drugs or alcohol (DWI).
One day in October 2017, he encountered a situation like no other. There was nothing particularly special about Lafave's shift that night. He was on his usual patrol, heading down the interstate when he first spotted a problem. There was something suspicious about another vehicle, and the officer wanted to investigate further.
The other car was a gold Cadillac, and the issue was that it was being driven erratically. Lafave noticed the vehicle was dodging around other cars, changing lanes unnecessarily. Not only that, but it was also going at a considerable speed of 96 miles per hour, to be precise.
Lafave consequently made the decision to pull the vehicle over. The driver was female, and there was one passenger, a little girl. The thing that shocked the police officer was that the young child was not even wearing a seatbelt. Considering how badly the driver had been steering the vehicle, Lafave was horrified that the child hadn't even been strapped in.
The police officer then asked the driver, a woman named Devon Yukastein, why she had been driving so erratically. Yukastein responded by saying that she was scared of the freeway. Unconvinced by her answer, Lafave asked her to step away from the driving wheel.
Yukastein found considerable difficulty in doing so, however, as she was reportedly intoxicated. When Lafave was questioning Yukastein, in fact, she was having some serious trouble standing up straight. This prompted the police officer to carry out some sobriety tests on the driver, who had told the father that she'd spent the evening at a concert.
First, Lafave gauged Yukastein's reactions with a quick eye test, followed by another task that involved asking her to stand where he was shining his torchlight. But a police video of the incident shows Yukastein struggling to follow the simplest of instructions.
At one point, Yukastein bolted back to her car to check on the six-year-old girl who was still in the passenger seat. The intoxicated driver told the officer that she thought the child, who is her niece, was scared by the situation. "Yeah, I'm sure she's scared," Lafave replied. "I'd be afraid, especially the way you were driving. I'd be afraid too."
After that, the police officer had one more sobriety test for Yukastein. He asked her to walk in a straight line following a painted strip on the highway. However, Yukastein failed to complete the required task. She started counting aloud as she walked unsteadily, completely missing the point of Lafave's request. At that point, the police officer was certain that Yukastein was unfit to be on the road, so there was only one thing that he could do.
Lafave then arrested the driver on the roadside, something that he'd done over a hundred times before.
But there was something different about this case that really got to him. The officer found himself becoming very emotional after arresting Yukastein. In fact, that was because of something that Lafave found in the trunk of the car when he opened it up. He discovered a bunch of strollers in there. Thankfully though, there had only been one child in serious danger that night, and she was about to be taken somewhere safe.
Lafave subsequently made a phone call in order to organize someone to collect Yukastein's niece and take her home after the arrest. But the emotion of the situation overcame him while he was speaking on the phone. Lafave was unable to hold back the tears. "That makes my heart hurt," he said with his voice cracking. Then when the little girl tried to be helpful and shut the car trunk for him, he kindly told her, "Hey baby, I'll get it. I'll get it. God, it breaks my heart," Lafave croaked as he made his way back to his police vehicle.
The thought of that little girl and potentially other children being in danger because of an irresponsible and intoxicated driver was clearly too much for the officer. The video of Lafave's emotional reaction to the traffic stop quickly caught the attention of local news stations, who reported on the incident.
Thankfully though, Yukastein had been caught before she caused an accident and injured her innocent niece or anyone else on the roads that night. Yukastein was taken to the police station and charged with DWI. Although she managed to orchestrate a plea deal, the reckless driver also faced charges of child abuse. However, WFLA news reported that those proceedings were not going to continue.
Thankfully, tragedy was avoided that night thanks to Lafave's sharp eye and professionalism. By taking Yukastein off the road, the police officer might even have saved a few lives. Not only that, but the emotional video will also make people think twice before getting behind the wheel after a few drinks."