Mom Has to Sit In Airplane's Toilet to Save Her Dying Baby, What Happened Next Shocked Everyone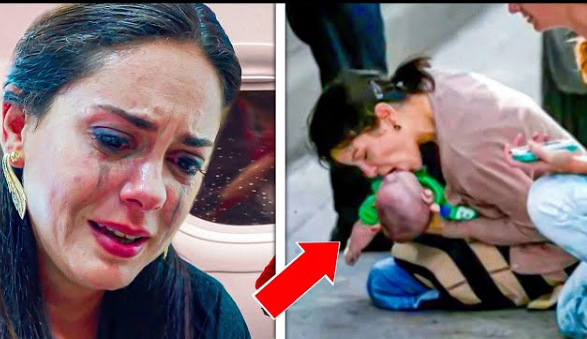 "After discovering that the only hospital that could treat her dying son was miles away, a desperate mom went to great lengths to get him there, even if it meant sitting in the toilet of a plane the entire flight.
Any mom would go to the ends of the Earth for their child, even if it means trying to do the impossible. For one mom, she did everything she could to save her child's life, including sitting in an airplane lavatory for the duration of a flight.
Zavir and her husband Ben had always wanted to expand their family. After welcoming their eldest son Ignatius, they struggled with infertility and decided to consider adoption. But fate had other plans. At 37 years old and with pending adoption papers, Zavira suddenly fell ill. She felt nauseous, and her breast was suddenly tender.
At first, she thought it was early menopause, but decided to take a pregnancy test for the sake of it. To her surprise, the test turned out positive. She was in absolute shock, and her husband had the same reaction when she told him about it.
They were at a beach when she put a folded Post-It note inside his pocket. When he saw it, he asked, 'Are you sure?' When Zavira told him it was true, her husband told her they shouldn't talk about it, not wanting to jinx the moment they'd been waiting for. They feared their dream would somehow go away if they spoke about it.
Alone, it was a challenging pregnancy for Zavira who discovered she was expecting twins. She had some bleeding at eight weeks and was fearful she had lost her beautiful children, but they were okay. At the 20th week mark, during one of her routine ultrasounds, she felt something was wrong when the doctor suddenly fell silent. They broke the news to Zavira that one of the twins, Francis, had Down syndrome and ventricular septal defect, more commonly known as a hole in the heart.
Zavira eventually went into labor at 36 weeks and gave birth to her twins, but a day after they were born, she was told that Francis's heart was much worse than they expected. The hole in his heart was not compatible with life, the doctor told Zavira and Ben. At first glance, they couldn't believe this was their son's reality.
He wasn't on a respirator and looked fine, but he was fighting really hard for his life. Zavira felt that every second they weren't doing something meant Francis was getting closer to death, so she did everything she could to get him the treatment he needed.
Francis needed a special operation to survive, but it was only possible in Melbourne, which was thousands of miles away from their native Darwin. As COVID-19 was rampant then, no commercial flights would take them. It took days of lobbying until they were finally put on a care flight to Melbourne.
At 21 days old, Francis was transported to Melbourne through an incubator with a medical team. The incubator was usually flown in from Sydney or Melbourne, but thanks to a foundation called the Humpty Dumpty Foundation, the transport incubator was donated to the hospital where Francis was.
It was initially only supposed to be Francis on the flight, but because Zavira insisted on joining him, her only option was to sit in the plane's lavatory the entire flight. She sat there with Francis's healthier twin Ernie as her carry-on luggage.
When they finally reached Melbourne, Zavira couldn't help but cry. So much weight had been lifted from her shoulders, and her darling son would finally get the care he needed. Ultimately, the operation was a success, and Francis is now a healthy little boy, just as active as Ernie.
The hole in his heart, which once threatened to take his life, was closed. Although he still has to take things one step at a time because of his Down syndrome diagnosis, he has been showered with so much love and care that adjusting to his everyday life has been much easier.
With so much experience under her belt, Zavira is a stronger mother today. She's grateful to have her children and would still do anything for them to thrive."