I'm Celebrating Life: Beautiful Lady Who Lost One Eye Show Off Happiness Despite Her Condition (Video)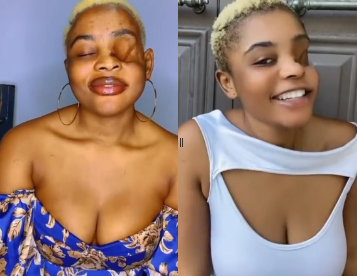 Touching TikTok video of a young girl from Cameroon has captured the hearts of millions with her unwavering strength and positivity, despite facing a heart-wrenching tragedy caused by the anglophone crisis. The girl, who goes by the name Naronaro, revealed in her video that she lost her eye after being shot during the crisis.
Despite enduring such a traumatic experience, Naronaro's spirit remains unbroken, and she chooses to be happy and grateful for the life she still has. In her video, she shared the powerful caption, "At least I still have life for a better tomorrow," demonstrating her determination to find happiness amidst the pain.

Naronaro's video touched the hearts of many people on TikTok from all around the world. They were deeply moved by her story and how she remains strong and positive even in difficult situations. Many users responded with heartfelt messages, expressing their admiration for her strength and ability to find joy in challenging times.
One netizen, deeply moved by Naronaro's story, commented, "This lady is a true inspiration. Her positive outlook despite everything she's been through reminds us all to be grateful for what we have. We should learn from her and be happy in whatever situation we find ourselves in, knowing that we are not alone in facing life's challenges."
Watch Video Below: