He will Collect it back: Portable buys his Zeh Nation Artiste Young Duu a Fairly Used Second Honda Car (Video)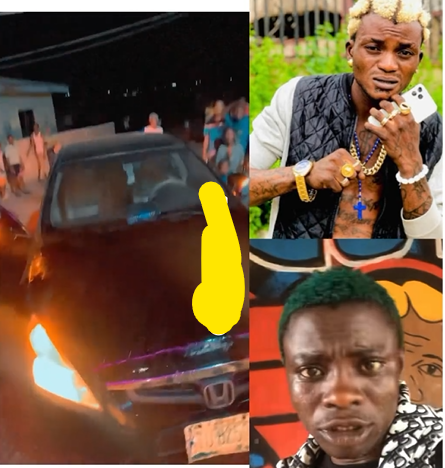 In a surprising move, Portable, purchased a high-end car for one of his artists, Young Duu. The gesture comes in the midst of rumors suggesting that Portable has been using his artists as car washers for his own expensive G-Wagon Brabus.
Portable, aiming to silence these speculations, surprised Young Duu with a second-hand Honda car . The event took place at Portable's luxurious mansion, where the car was unveiled in front of fellow artists, label executives, and the media.
The news of record label boss Portable giving a luxury car to his artist Young Duu has raised doubts among some people. They wonder if Portable will eventually take the car back, leading to a "wait and see" situation.
Portable surprised Young Duu with a costly, second-hand Honda car, which was initially seen as a kind gesture.
However, some skeptics believe there might be hidden reasons behind the gift. They question whether Portable is trying to divert attention from rumors that his artists work as car washers for his own fancy G-Wagon Brabus.
These skeptics speculate that Portable could ask for the car back later.