How I Eventually Found My Husband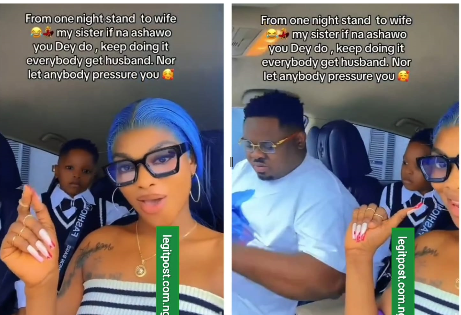 A lady from Nigeria shared a video on TikTok where she explained how she ended up marrying her husband. In the video, she revealed that they had a one-night stand without any intention of getting into a serious relationship.
However, things took a positive turn, and they eventually got married. She advised other women to stay determined in their actions, even if it involves Ashaw0 . She suggested that you never know, you might find a husband just like she did.
The Video Sparked Reactions online as people criticized her for saying such thing on the internet
According one critics : Woman who is a mother and a wife has caused a lot of anger and upset by saying something disgusting online. People are reminding her that the internet never forgets.
The woman's statement has upset many, and they are criticizing her for forgetting the lasting impact of her words. They are especially concerned about how her husband might react if he sees the video.
Another critics: See the way she put out her beautiful family online with the most useless caption I have ever seen