Drug Addict Who Left His Mother 5yrs Ago Return Month Later Strangled Her Mother To Death Overnight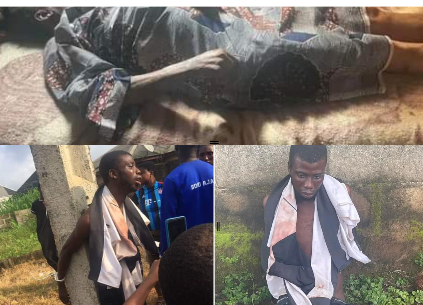 A man named Samson Sikiru, who was suspected to be addicted to drugs, has been arrested for allegedly killing his mother, who was a prophetess. This happened in the Itanrin Axis of Ijebu Ode, in Ogun State.
According to a journalist named Tosin from Ogun, the 32-year-old suspect strangled his mother to death in the early hours of Sunday, July 16, 2023.
The incident came to light when Samson's younger brother, who was on a night shift, went to work, and a distress call was made to the Ijebu Rewa Organisation.
Neighbors revealed that Samson had been away from home for more than five years and only returned a month ago. During this time, his mother had repeatedly complained to neighbors and authorities about his drug use.
On the morning of the incident, Samson went to a neighbor, claiming that the Prophetess (his mother) had collapsed and died. However, upon investigating, neighbors discovered that she had been strangled to death.
There were marks on her neck and leg, and her left hand was broken. There were also blood stains on Samson's fingernails. It was evident that Samson was under the influence of drugs when he committed this horrible act.
The community in the Itanrin area of Ijebu-Ode is deeply saddened by this tragic event. Samson has been handed over to the Nigeria Police Force, and the mother's body has been taken to the Morgue for further investigation.