Dangote and his Grandfather all Used to be my Tenants before in Ogun State in 1988" – Man Reveals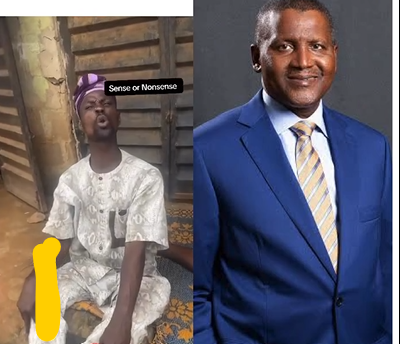 A man is seen boastfully narrating a surprising connection to Dangote family in Ogun State.
According to the man in the video, he claims to have been the landlord of Aliko Dangote and his grandfather in their early days before they achieved immense wealth.
He vividly recalls how they used to rent rooms from him, paying a meager sum of one naira fifty kobo per room in 1988.
However, many viewers have questioned the credibility of the man's story, suspecting that he might be under the influence of alcohol as he was seen with alcoholic drink.
@facsca: What he's saying is actually very true. Dangote's father used to be an apprentice in a recycling industry in odoogbolu area Ogun State before. In course of his apprenticeship, he rented an apartment where he'd shelter and return to the north every four months and these periods are always fixed nearest to yearly festive periods. Dangote's mom…
@HISTORY: Man needs a Medical attention 👏🏾👏🏾 If you love fascinating indigenous and ancient History ,Kindly read and know about the history of your tribe and ethnic on my page,Let's not ignore to learn the history of our roots ..Also Read informative and educative history on my page..🥰👏🏾