Single Dad Adopts Boy With Down Syndrome No One Wanted. Years Later He Is Contacted By A Lawyer With A Surprising News And Was Given A Letter By The Lawyer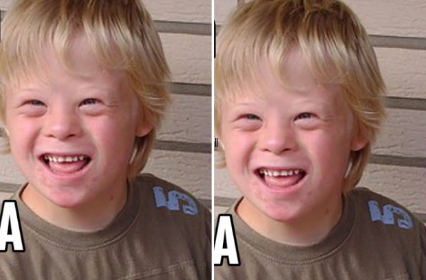 David anxiously paced back and forth in the waiting room of the hospital; his brother Jack attempted to reassure him, "Relax, Dave. It's not like no one has ever had a baby before." A smile crossed David's face. "I know," he replied, "I'm just incredibly nervous. I've always dreamed of becoming a father."
Jack grinned and gave his brother a comforting pat on the back. "Prepare yourself to be a dad, buddy."
Just then, the doctor entered the room and made his way toward David. There was a certain look on the doctor's face that instantly extinguished any trace of laughter, and David instinctively understood. The doctor explained that it was an extremely rare and unfortunate occurrence, a one in a million fluke, but it had tragically claimed the lives of Rita and their baby.
David listened attentively, maintaining a composed demeanor and nodding at appropriate moments. He didn't shed a single tear, but as he attempted to take a step, his knees buckled beneath him. A weeping Jack had to support his brother and carry him home as if David were a small child.
Several days had passed since Rita and their baby were laid to rest, and it seemed like everyone except for Dave was ready to move on. As he woke up, he found himself in a silent house. His hand reached out to his side of the bed, only to find it empty. He rose from the bed and made his way down the hallway to the nursery, flicking on the gentle night light. It illuminated the ceiling with soft pastel stars. That room had been adorned with both pain and dreams by him and Rita. Now, it was all gone.
Dave sank into the rocking chair that Rita had insisted they have and wept. His heart and home felt devoid of life, and his dreams had been shattered. The urge to dismantle the nursery and erase that emptiness surged within him. Suddenly, a thought invaded his mind, "You can't fill a hole with anger, only with love." Who had said that? Dave pondered. He vaguely remembered hearing those words somewhere, sometime. Perhaps that notion held the key to saving his own life.
Dave reached out to Social Services and inquired about the possibility of adoption or fostering a child. Initially, the social worker expressed reservations, "We typically don't place children with single parents," she remarked, "although it is becoming more common these days."
"I have a fulfilling life," Dave asserted. "I have so much to offer a child, especially love. My wife and I shared the dream of becoming parents. I want to make that dream a reality."
The social worker picked up a file adorned with numerous colored stickers. "Would you be open to considering a child with special needs?" she inquired.
Dave shrugged, his voice filled with quiet conviction, "Every child is special, and every child has needs," he replied, "we never know what blessings might come our way. I'll embrace the child who needs me, certainly."
Dave had to endure numerous interviews and attend parenting workshops, but eventually, the much-awaited day arrived. They informed him that he had a son. "We have a little boy who has transitioned through three different foster families," the social worker explained, "his name is Sam, and he is two years old. He has Down syndrome."
"Where is he?" Dave eagerly asked.
"Sam has some health considerations that you should be aware of," the social worker cautioned.
"I'll take him to the pediatrician," Dave reassured, "whatever he requires, he will receive."
When Dave laid eyes on Sam, it was an instant connection, a surge of love at first sight. Sam was the most adorable baby he had ever encountered. Initially, Sam displayed shyness, but as he realized the depth of Dave's love and care, he gradually emerged from his shell. Dave couldn't comprehend how anyone could resist such an endearing child. Admittedly, Sam took a bit longer to reach certain developmental milestones, and the doctor advised monitoring his heart. However, in almost every other aspect, he was perfect.
The highlight of Dave's day arrived when he collected Sam from child care, and his little boy would eagerly run into his arms, embracing him with open arms. Dave would lift Sam up high, playfully tickling his chubby belly, and his heart would overflow with love. "Rita," he would softly whisper to his deceased wife as he watched Sam sleep, "I've made our dream a reality. I've filled the void you and our baby left behind with love."
Years passed by, and Sam grew just as swiftly as any other child. The doctor confirmed that his heart was in excellent condition. Sam was a joyful and sociable boy, effortlessly forging friendships with everyone he encountered. No one could resist Sam and his infectious grin. The phone incessantly rang with invitations for sleepovers and playdates, leaving Dave struggling to keep up with Sam's vibrant social life. As Sam had lots of friends, when he turned 12, he yearned for independence and the freedom to spend time with his friends like a young adult. This transition posed a challenge for Dave, but he recognized that, like any other parent, it was important to grant his son the space he needed to grow.
However, one day Dave received an unexpected phone call from a lawyer. "Mr. Wallace," the man stated, "I am calling on behalf of your adopted son's biological parent."
"What do you want?" Dave questioned sharply.
"I would like to have a conversation with you," the lawyer replied.
"I have no interest," Dave firmly responded. "Those individuals abandoned my son. There is nothing you could say that I would want to hear."
"Please, Mr. Wallace," the lawyer implored, "do it for Sam's sake."
Reluctantly, Dave agreed to meet with the lawyer. Upon arrival, the man handed Dave a letter. "This will provide a much clearer explanation than I ever could, Mr. Wallace," he explained.
Dave opened the envelope and began to read:
Dear Mr. Wallace,
If you are reading this, I have finally found peace alongside my beloved wife. I thank you for loving my dear Sam and providing him with care. Prior to Sam's birth, we were informed by the doctors that he had Down syndrome, but it didn't alter our love and excitement for his arrival. We embraced him wholeheartedly, envisioning a future filled with countless cherished moments as a family.
However, fate had other plans in store for us. When Sam reached three months of age, he required hospitalization for some tests. Emily, my wife, and I drove to the hospital with anticipation to bring him back home. Tragically, our lives took a devastating turn when we were struck by a truck. Emily's life was tragically cut short, an instantaneous loss that left me as a quadriplegic survivor.
For the past 12 years, I have existed as a breathing, weeping, and resentful shell of a man, feeling as though I had already perished while still trapped in this mortal realm. I knew deep down that I was not capable of being the father Sam deserved. Yearning for a brighter future for my son, consequently, I made the heart-wrenching decision to place him for adoption.
Mr. Wallace, I cannot express how grateful I am that you opened your heart and became the remarkable father figure that Sam deserved. One day, I hope you will have the opportunity to tell Sam that his birth parents loved him deeply and never intended to abandon him. I never want my dear boy to carry the burden of feeling unwanted or forsaken.
Peace be with you. Please tell this to Sam. My lawyer will provide you with the necessary papers for Sam's trust fund, which will be entrusted to your care. Once again, I express my deepest gratitude, Mr. Wallace, for your boundless love towards my beloved Sam and for fulfilling the role of the father that I should have been.
Upon receiving the necessary documentation from the lawyer, Dave gained access to Sam's substantial trust fund, amounting to an impressive 1.2 million dollars. Dave solemnly vowed to utilize this wealth to safeguard his son's future, honoring the intentions of Sam's biological father.
As Dave contemplated the circumstances, he couldn't help but wonder if the families who had rejected Sam would have turned away if they were aware of the existence of this significant sum of money. Sam's biological father had made a wise decision in concealing his fortune, ensuring that his son would be cherished and valued for who he was, rather than for any monetary gain attached to his name.
Dave told Sam about the letter and the trust fund. Sam was in tears but was glad his parents did something great for him that would change his life for good. Dave recognized the significance of Sam's trust fund in securing his son's future, providing opportunities, resources, and stability. He vowed to use the funds wisely, ensuring Sam's education, healthcare, and support. The trust fund symbolized hope and redemption, entrusted by Sam's biological father, who wanted the best for him.
Dave embraced the responsibility, being the best father he could be, filled with love and guidance. The fund became a tool to honor Sam's father's wishes while Dave instilled values and character in his upbringing.
With time, Sam grew into an exceptional young man, embracing the impact of love and opportunities the trust fund represented. Selfless love and the extraordinary bond between Dave and Sam proved that love could shape a future filled with endless possibilities.