Davido Should Not Apologized To Muslims It's Unnecessary, He Did Nothing Wrong, Let Face The Problem Of The Country Not Him- Prof. Wole Soyinka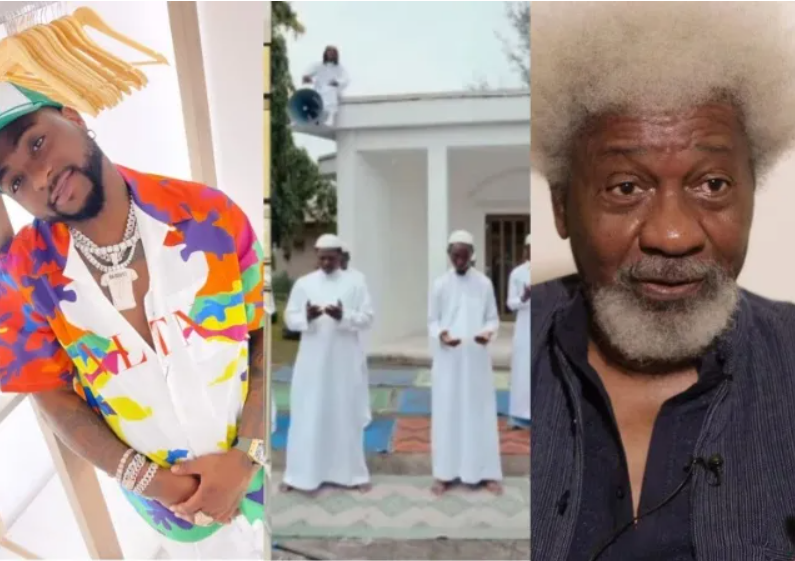 Prof. Wole Soyinka, who is very well respected for his writing, is standing up for Davido, a famous singer, and his artist, Logos Olori. They faced criticism for a music video that some people found offensive. The video showed people praying and dancing in front of a mosque.
Davido decided to take down the video after the controversy, but some Muslims still wanted him to say sorry. To support Davido, Soyinka brings up a similar incident involving a politician named Nasir El Rufai. He had said disrespectful things about Christians in the past but was not asked to apologize for it.
Soyinka believes that Davido doesn't need to apologize because the music video didn't cause any harm or violence. He reminds people that the video wasn't responsible for a terrible incident where a Christian student named Deborah Yakubu was killed by a group of Muslim students in Sokoto over something they considered blasphemous.
The professor says that demanding an apology from Davido is unnecessary. He thinks it's important to defend the right of artists to use dance in religious settings. According to Soyinka, dance can be a way to connect spiritually and create a sense of community.
Soyinka suggests that those who are offended by the video can choose not to support Davido's music, and that's okay. However, he encourages everyone to focus on more significant issues facing the country, especially problems related to religion and violence.
He believes that the nation should prioritize addressing issues like violence, injustice, and the misuse of power rather than getting caught up in small conflicts like this video. Soyinka wants people to unite and work together to solve the real problems affecting their society.
See Reactions Below from social media users :
@mawizy: Human beings trying to fight for God.
God said he will fight our (humans) battles, just imagine and they can't even fight Bokoharam and hunger in the north they chose violence all the time, na person wey come from my state #Plateau state Jos, #Benue, #Kaduna and #Taraba go understand better smh 🤦‍♂️🤦‍♂️
@divine: If you know you didn't read to the end cause the grammar was too big like this comment😭😂😂cause haba sir…but yes I support …Davido doesn't owe them an apology..he already took down the video 🤷‍♀️
@bitcoin_chef: Make them share the country make every religion take them own