A news is currently trending and making waves on Social Media after a Nigerian-American doctor came out openly to say there is a cure for Coronavirus.
According to her, the cure for Coronavirus is Hydroxychloroquine, Zinc and Zithromax.
She said according to her she has treated over 300 patients in their hospital and not a single patient has died.
According to her hydroxychloroquine is a prevention and also a cure.
She said it gets her so infuriated to see how much people are in fear when there is actually a cure.
According to her, she has treated patients with diabetes and even asthma. She said her oldest patient is over 90 years old and as we all know it has been reported that coronavirus is more deadly in the lives of old people but none of her patients have died.
She said America needs to stop waiting for "fake scientists" to prove that Chloroquine is a cure for COVID19.
According to her, people will just keep on dying while we wait for a cure and once they are gone we cannot bring them back to life.
She also said other collegues have been insulting her but she must speak the truth.
She spoke about schools being on lockdown, how the Government is being distracted by imposing the use of masks when they can face serious issues like the production of more Chloroquine and Zinc.
She said they only wear masks and they do not even have PPE kits but all they do is use Chloroquine, she said all other collegues in her hospital also make use of Chloroquine.
Dr Stella also added that she has received so many threats. Some have threatened to report her to the board.
She said "If this is the mountain where I get nailed then I am prepared for it. They can kill me but I will say the truth, there is a cure for COVID" She confessed.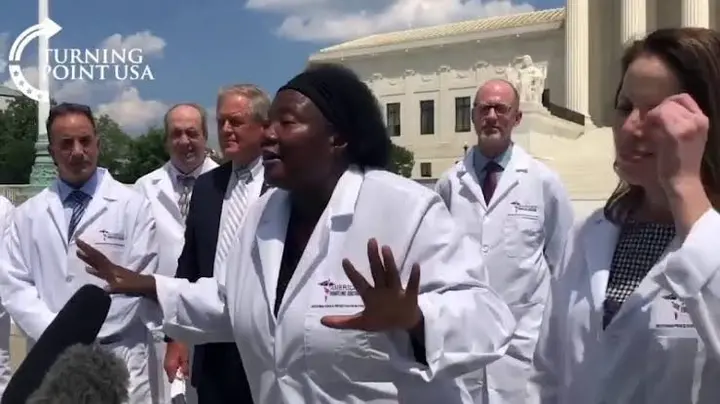 She said doctors and research companies who are saying there is no cure yet are lying.
She also asked research companies who proved that Chloroquine causes heart complications to prove it to her.
She said nobody needs to be sick anymore and we do not need to live in fear anymore because there is a prevention and cure for Coronavirus.
What do you think about this?
You can watch the full video with this link.