It was reported some weeks back that the former senator that represented the good people of Eket Senatorial District of Akwa Ibom State, Senator Nelson Effiong was kidnapped in Uyo, the Akwa Ibom State capital.
Since the time he was kidnapped till now, the senator has been with those who abducted him. Based on that note, a well known human rights activist, Deji Adeyanju decided to react.
According to a post he made today on his verified Facebook page, he made it known that the senator from Akwa Ibom State, Nelson Effiong, who said that Nigerians were always exaggerating insecuriy under President Buhari has now spent over 50 days in kidnappers den.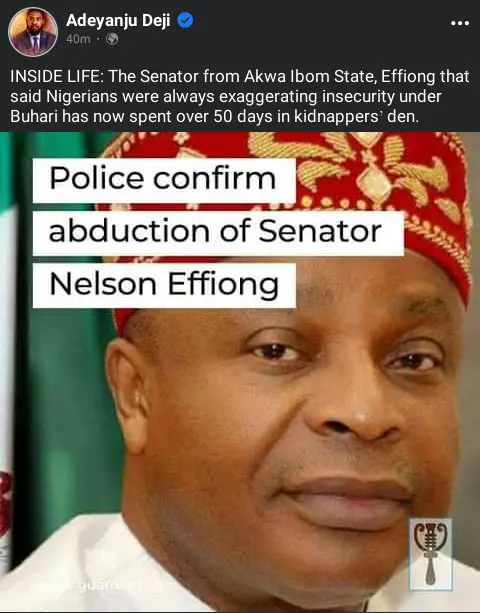 This is really a sad one indeed. I think this is the time for everyone to rise up and do something, because the way things are looking presently, I don't think that anyone safe in Nigeria now. Things must be properly done if we must move forward as a country.
What is your take on this? You can drop your comments and opinions below.