Popular Islamic cleric, Sheikh Gumi recently spoke about the issue of insecurity in the nation, especially in the North West, as well as agitation for self-determination in the Southeast and Southwest.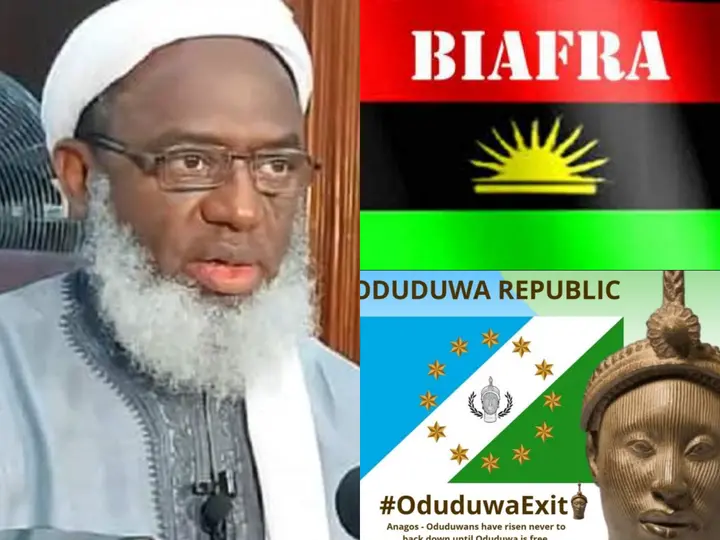 In a recent post sight on Gumi's Facebook post, he warned that declaring Bandits as terrorists will come with a prize that the country would not want to pay. He claimed that the moment bandits are termed terrorist, Islamic, the direct foreign Jihadist movements will set in in force, and many unemployed youths may find it palatable and attractive.
Speaking about secession agitation in the Southeast and Southwest, Gumi revealed that he hopes another Igbo clergy goes into IPOB "militants" and likewise talk sense into them, while another Pastor of Oduduwa land talks against the Igboho secessionist tribal movement by way of sensitizing people to the values of a cohesive nationalism.
Sheikh Ahmed Gumi believes the solution to the tension in the Southeast and Southwest as regards agitation for self-determination, lies solely on religious leaders. He said if a religious leader in the South can do this, then it will guaranty freedom, equality, and justice for everyone. He added that religious forces can permeate hardened hearts where secular forces cannot.
I think the Southeast and southwest leaders should take Gumi's advice, look for a prominent cleric in their respective states that is well respected to speak to the agitators. Just like Gumi is doing in the North West, Southern religious leaders should get more involved in advocating for peace and a united Nigeria.
Although Gumi has come under heavy criticism ever since he started advocating for dialogue as the best way to end banditry in the North, we should also understand that his effort has helped reduce the activities of bandits in the region. Recall that Presidential spokesman Femi Adesina recently smalled Mr. Gumi as a "terrorist lover" for his open association with bandits killing and abducting civilians across the North-West, but this has not stopped him from doing what he feels is the right thing to do.
Feel free to share your thoughts with us on this. Do you think religious leaders in the South-East and South-West can help put an end to secession agitation?