According to a report by National Daily, the Katsina State Police Public Relations Officer, Superintendent Isah Gambo, has paraded before pressmen at the State police command on Friday, a 25-year old suspect named Hamza Isah, and two others whom he said planned with him to kidnap his father from their home in Rinji Gora village, Matazu local government area of of the state.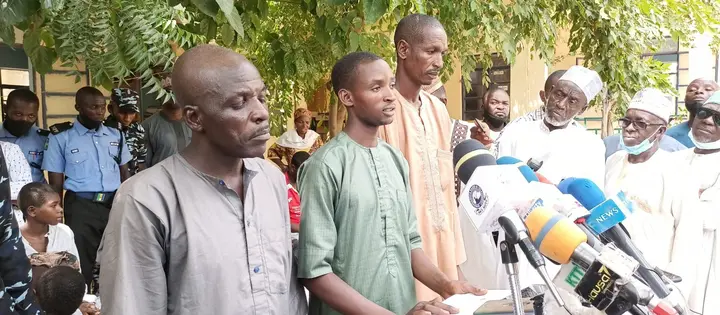 Based on Hamza's confession, after he had an unresolved issue with his 60 years old father, Isah Maigora, he conspired with two persons within their locality for the purpose of abducting the man for ransom. And one of them pampered him with two thousand naira and some fertilizer which he had begged for. Besides those, he was promised that if they succeeded he would give him twenty thousand naira more. In addition, the man gave him three different charms to bury in the compound of his father so as to make their dirty mission a success, and which was truly so.
Perhaps, as nemesis began to nag on him, Hamza could not stand up to the dubious offence any longer, and he returned the two thousand naira which he earlier accepted from his accomplices whom he also told that he could not continue with the crime. But the man who earlier gave him charms decided to threaten him that he would die if anybody should know about their evil act. That was why he reported himself to police as the last resort.
However, the two accomplices of Hamza with whom they kidnapped his innocent father have also been arrested. But in the meantime, they have yet to admit their complicity to the crime.
Judging by the above incident, four things can be pointed out as follows:
1.) Hamza may have asked his father to assist him with money to buy the fertilizer that he begged the charm man for. And his father's refusal to give him the money (whether or not he had it) must have brought about their misunderstanding.
2.) Hamza was as gullible as he was foolish, else, he would not agree to organize the kidnap of anybody, much less his father, for any amount.
3.) In line with '2' above, the man who gave Hamza talismans to bury in his father's compound may have hypnotized him to make him agree to do his wish. This is because, according to Hamza, the charms were meant to pave the way for their mission to be a success regardless of the fact that his father's compound is always busy according to him.
4.) Coupled with '3' above, Hamza probably regained his consciousness after the power of the talismans faded away. Hence, his decision to report himself to the police despite the empty threat of the fertilizer man who cajoled him with them (the charms) and twenty thousand naira.
In a nutshell, the fact remains that they have allegedly committed a crime.