Daddy Freeze Replies Woman who said Ladies with Unpaid Bride Price will not see the Kingdom of God
Nigerian radio broadcaster, Daddy Freeze, has taken to social media to reply a woman, identified as Kate, who revealed that ladies whose bride prices are yet to be paid will not enter heaven.
Kate had earlier on, revealed that bride price is one of the criteria for Christians to make heaven, as she advised women to make sure that their spouses pay their bride price in full before taking them home.
However, Daddy Freeze who replied the lady through his official Instagram page, revealed that Mary and Martha in the Bible were not married and according to her teachings, they will not make heaven.
Daddy Freeze further stated that Kate should go to heaven alone and in peace, adding that there is a scripture in the Bible that does not contain bride price as ordered by God.
See his post below;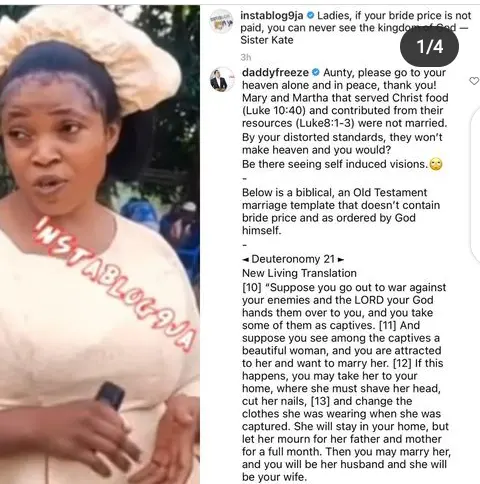 Nigerians, especially Christians should be very careful with the messages they receive from people this period.
The Bible is the only true word of God and each time a message is received, we should try to see if it found in the scripture while also praying to God for a clearer revelation of the message.