I've Had No Joy in Life Since Boko Haram Killed My Husband And Kids With Bomb -Widow Narrates
Chioma Dike, the wife of a bomb blast victim, has revealed that she usually approaches the Yuletide period amid mixed feelings as it reminds her of how her children and her husband got killed on Christmas day in 2011. Chioma narrated her ordeal during her recent interview with Arise News.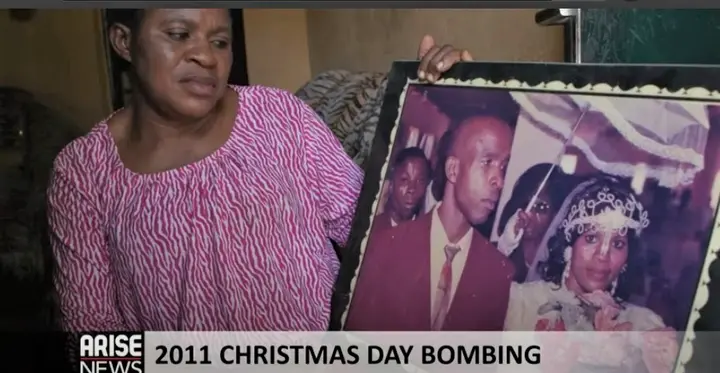 You may recall that 2021 marks the 10th anniversary of the Saint Theresa Catholic Church bomb attack in Abuja, carried out by Boko Haram terrorists on Christmas day. The 2011 incident had led to the loss of lives and properties. However, some of those affected by the bomb blast are yet to heal from its impact.
Narrating her ordeal, Chioma said, "I frequently do not feel fine whenever I remember how I lost my husband and three children in the same day. We had five children (3 boys and two girls). However, on Christmas day in 2011, my husband and my three children were in church when terrorists attacked the church with the bomb. My husband and kids died during the attack as they all got roasted. Our car also got impacted. I often feel sad during the Yuletide period since the incident occurred. I have no joy in my life after losing my lovely husband and kids."