I Killed Madam Igbinedion With A Stool Just To Carry Her money, She Did Not Offend Me – Housemaid Confessed
The suspected killer of Madam Maria Oredola Igbinedion has confessed that she was not offended by anybody, she said the only reason she killed Madam Igbinedion was just to carry her money.
The 25-year-old suspect, Dominion Okoro, who was working as a housemaid, revealed that she used a stool to hit the head of Madam Igbinedion while she was sleeping.
In her words, she said: "I killed Mama (Madam Igbinedion) just to carry her money. She did not offend me. I used a stool to hit her on the head while she was sleeping on her bed, around 12:01 am on December 2, 2021. Mama shouted and cried for help but no one was around except the gateman who was at the gate and didn't hear her shout. Mama later shouted until she died, and I waited till 4 am before leaving the house with Mama's N100,000, wristwatch, and jewelry."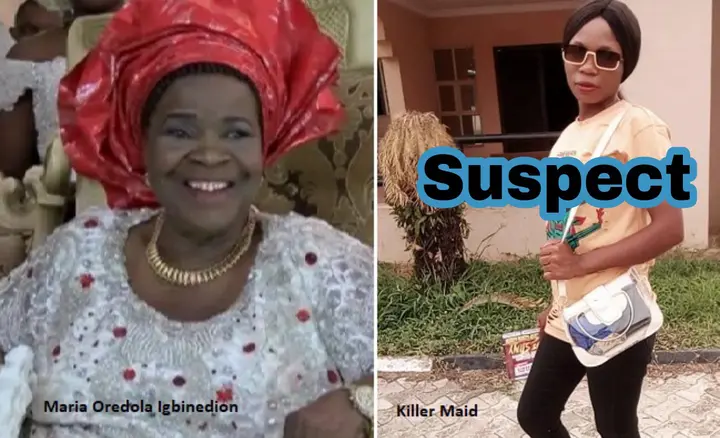 Madam Maria Oredola Igbinedion, 85, is the mother of former governor of Edo State, Chief Lucky Igbinedion. She reportedly died on December 2, 2021, and was buried in Benin on December 10, 2021.
May her soul rest in peace!🙏