"For 4 Years, My Son Has Been Preventing me From Sleeping With My Wife" Depressed Man Laments
Having a healthy intimate relationship is what every couple wants in their matrimonial life, in exception of this, tribulations will result. A random man who is a victim of this has narrated his experience causing a stir online.
According to the man, he has been having tribulations at his home and can't engage in the act with his wife peacefully at the perfect place, revealing the reasons behind it.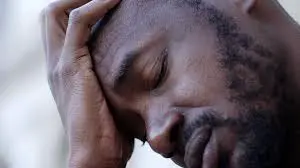 Speaking to a relevant source, the man alleged it's been four years since his son was born and they haven't been having a good time in their matrimonial bedroom with his wife following the child's vicious and unexplainable ways of holding his mother's breast everytime.
It's like a curse that has befallen the couple as the man revealed that, as his firstborn, he had anticipated to share good memories with hims prior to the fact that he has been forcing him and his wife to go for short trips on weekends without him inorder to spend good times.
He further added that he has developed a sense of hatred towards his son to the extent that he oftenly contemplates of ending his dear life but changes his mind everytime he concludes to wise decisions