Residents Complain of Odour And Rat Infestation At Site of 21-Storey Building Collapse in Ikoyi
Weeks after rescue operations ended at the site of the popular 21-storey building in Ikoyi, there have been complaints and health concerns in the affected area. The HOD of the Environmental Services in Ikoyi Obalende LCDA and the Council manager were at the accident scene to oversee operations. The government officials spoke during an interview with TVC News.
You may recall that a 21-storey building owned by Fourscore Homes Limited collapsed in the Ikoyi area of Lagos State. The incident had led to the loss of lives despite rescue efforts.
However, residents in the area have reported the stench that emanates from the collapse site.
Speaking about the exercise, Akingbehin Samuel (HOD Environmental Services) said, "This exercise is about fumigation, decontamination, and disinfection of the site of the 21-storey building collapse. The LG deemed it necessary to control pest infestation in this environment, which would have indirectly affected residents in the area. There have been complaints of odour and rats infestation. Perhaps, there are decomposing remnants that could be causing the smell and attracting the rats."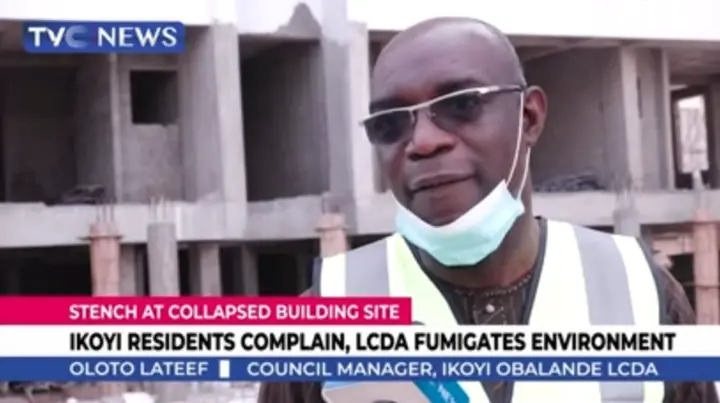 Oloto Lateef (Council manager) addressed the development by saying, "The corpses that got trapped in the building could not have been entirely evacuated. There would be bodies around the rubbles, and we need to decontaminate the site to avoid causing an epidemic."