Nigerian Troops Uncover Bombs Planted By IPOB/ESN On Orlu-Owerri Road
According to a report by Hq Nigerian Army, the troops conducting Exercise GOLDEN DAWN Sector 3 have thwarted an attempt by members of the outlawed Indigenous People of Biafra (IPOB) and its armed wing, Eastern Security Network (ESN) to unleash mayhem on residents of Mgbidi and Awo Mmamma communities in Oru East Local Government Area of Imo state.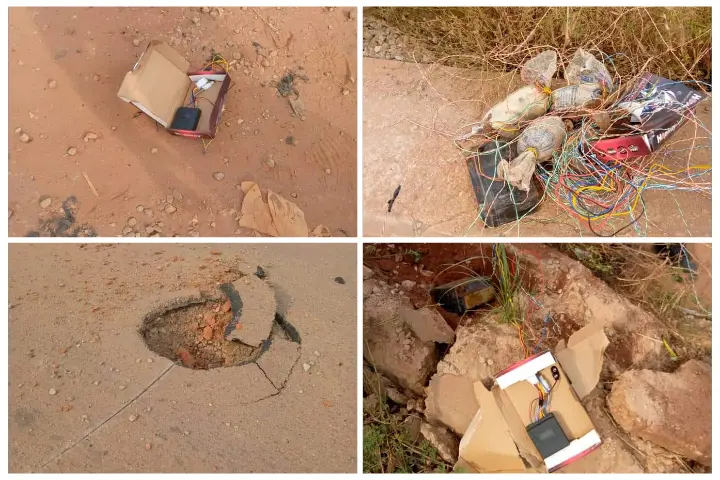 In a separate development, troops have uncovered four Improvised Explosive Devices planted by members of the proscribed IPOB/ ESN, in their desperate effort to inflict harm on unsuspecting motorists and other road users along Orlu – Owerri road. The vigilant troops, who were on a reinforcement mission to Mgbidi/Awo Mmama detected the IEDs planted at about 15 meters apart on both sides of the road and safely defused them. No casualty was recorded during the defusion.
Nigerians should commend the Nigeria Military for the speed with which they were able to thwart the attack and the planting of the explosives which might have resulted in the brutal murder of innocent people. Properly motivated, our military can achieve good results.
The concern however is the notorious delay in the prosecution of terrorists and bandits. When justice moves at snail's speed, it blunts the purpose of deterrence. It is not enough to parade arrested terrorists without speeding up their prosecution. You must send these barbarians to the gallows with merciless speed. Many terrorists have been in custody since 2015 and have not been convicted and made to pay for their crimes against humanity.
Our criminal justice system is notoriously sluggish and annoyingly inefficient. The government should create special courts to fasten the trial of terrorists and bandits. Do you need five or six years to investigate a terrorist before you commence prosecution? They say justice delayed is justice denied. As long as the office of the Attorney General or the police is taking donkey years to prosecute these mass murderers, the idea that crime doesn't pay may be up as hollow rhetoric.