My Father Brought His Sidechick Home, Impregnated Her and Forced My Mum to Cook for Her- Lady Laments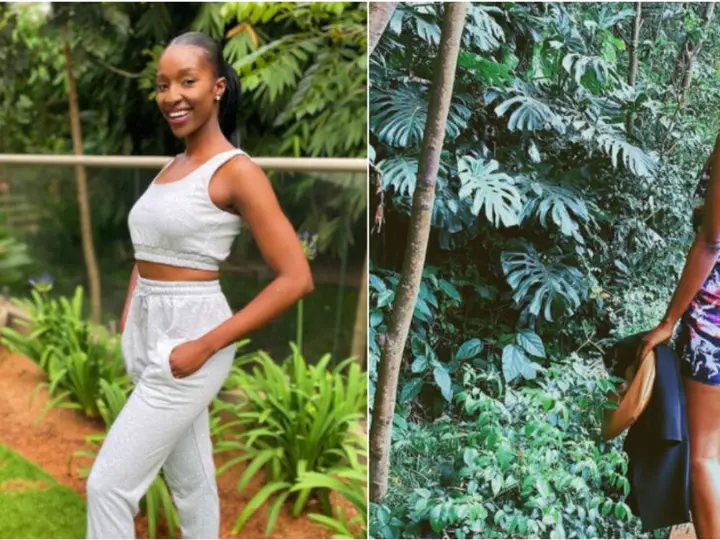 The model who is not only multi-talented but also so kind-hearted has tasted the good, the bad and the ugly sides of life.
Lynette has also seen her dad pummel her mum mercilessly at the dead of the night and wear unforgiveness on his sleeve like a badge of honour.
The 28-year-old's story starts in Embu where she remembers living in a gated community as her dad worked for energy company KenGen.
"We used to live in a camp with other workers of the company. Outside our community was a huge acreage of forest," she told Lynn Ngugi.
During a discussion centred on the curse of firstborns, the gym manager detailed how she had to grow up at such a young age thanks to her position in the family.
"I am my dad's first child. He had always wished for a son and my presence always miffed him. He always hated the fact that his first child turned out to be a girl," the model narrated.
In most African communities, a boy is regarded as an honour, a blessing, pride and an answered prayer.
Therefore, Lynette's dad was irked by the fact that she had the audacity to be a girl.
So, what did he do to take out his anger? He beat Lynette's mum any chance he could get and instilled a paralysing fear in his young daughter.
Anytime he bellowed, the young child felt her heart skip a beat.
She lived in fear and the model's mum also learnt to be timid, watchful, and mindful of her words.
"My dad would get angry and beat my mum up and most times I would scream. He once hit my mum so hard I saw blood splatter on the wall. I held onto his leg and begged him to stop. That day, at 2am, dad threw us out of the house and we had to walk inside a forest to our pastor's house," the 28-year-old stated as she fought back tears.
This happened for years and sometimes, Lynette's father brought women to the house and threw his wife out of the bedroom.
He normalised throwing his relationships on his family's face and proudly cohabiting with his young girlfriends as his wife and child squeezed themselves in the kitchen.
According to the strong woman, she watched as her new "step mum" got pregnant under the same roof while she and her mother received crumbs of attention from her dad.
Lynette further narrated that her mum was tasked with the duty of cooking for and cleaning after the new lady of the house.
The worst part? When Lynette's "step mum" reached her due date, her mother was the one who escorted the lady to hospital and stood by her as she gave birth.
"My mother came back to the house with my father's girlfriend. Mum was the one who carried the baby in her hands," Lynette said as she sobbed.
One day, the gym manager's dad came back home early and ordered her mum to pack everything she owned and relocate to the village.
The home Lynette had grown so fond of was no longer her home.
She, her mum and brother had to go back to the village where they struggled to put a meal on their table.
Meanwhile, her father lived the good life with his then-girlfriend and never bothered to check in on them.
Luckily, this story ends in resilience, happiness and power. Almost three decades later, Lynette has made a name for herself in the modeling industry and has finally forgiven the man who nearly broke her.