"My 3-Years Relationship Is Over, Just 3 Days To My Introduction", -Lady Laments (Video)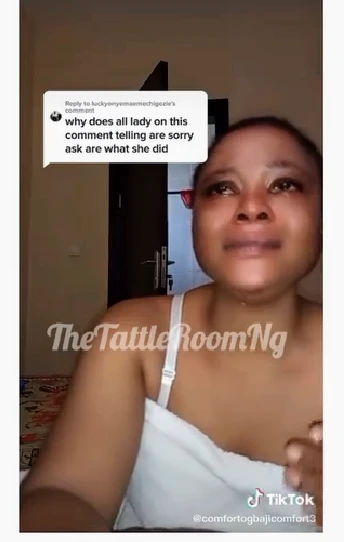 Heartbreak in a relationship is a difficult and dreadful experience for everyone, because not everyone has the mental capacity to withstand such a situation. However, when two people who were once in love lose their affection for each other, it is inevitable to happen at some time.
Because of the nature of what happened to an anonymous lady who is in deep emotions after her three (3) year relationship ended three days before her introduction, the tale I am going to tell with you is a heart-warming one. According to her, she did nothing wrong to him, but if there is a method for her to obtain her Whatsapp voice note on "tik tok" so that anyone hears it would know if she did anything wrong to her lover but to love him, she would appreciate it.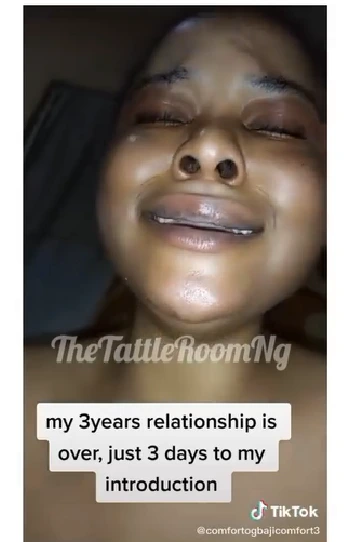 She said that her boyfriend had been avoiding her for some time after his father's funeral and she didn't know why, so she tried calling him but couldn't get through, so one day she decided to take some time off work to pay him a visit, and when she arrived, she met a lady he said was his godmother. So she confronted him, and he claimed he had been meaning to tell her that his mother didn't approve of her because of her tribe.
At that time, she realized it was because of her that he was avoiding her, and he wanted to tell her, but he didn't know how to tell her that their relationship was ended, and she didn't know if she could endure it. Meanwhile, she stated that her current issue is not with herself, but with the fact that she is unsure how she would explain the situation to her mother because she already has high blood pressure. She claims she has squandered her three years with him since she is the only kid and her mother has been hoping for the day she will have her own house, and she claims she "I don't think I can survive this."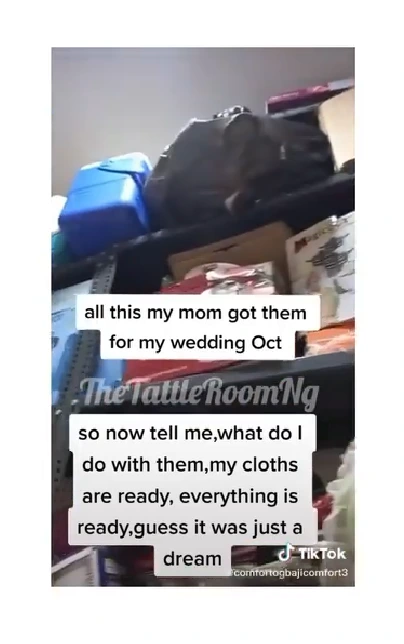 The photo above depicts the wedding presents that she claims her mother has already purchased for her.
"A broken relationship is better than a broken marriage," as the saying goes. This indicates that not all relationships will end in marriage, and when one's spouse leaves, it will feel as if the world has fallen apart around them. This is a difficult time, and only someone who has been through it before can understand how she feels.
Watch Video Below: