They Lied Against Me, I Didn't Say Nigeria Will Collapse If Bandits Are Declared As Terrorists – GumiI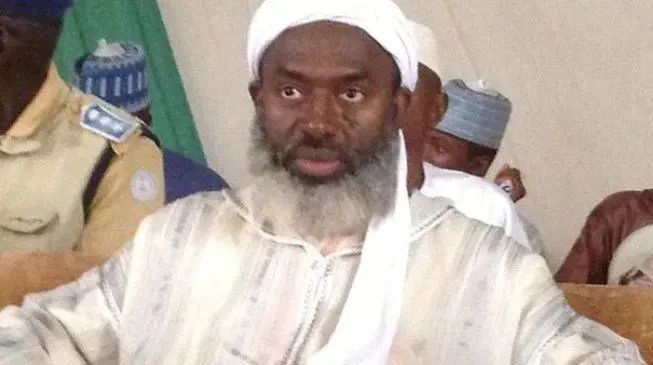 Popular Islamic scholar, Sheik Ahmad Gumi has denied saying that Nigeria would disintegrate if the Federal Government tag bandits as terrorists.
In a post on his Facebook page in October, Gumi said the moment bandits are declared terrorists, the direct foreign Jihadist movements will set in force.
He, however, pointed out that the actions of bandits in the Northwest which has seen innocent people killed is tantamount to terrorism.
Legitpost gathered that during an interview section with reporters on Monday in kaduna, Gumi said his post on his social media page was quoted out of context.
The controversial cleric pointed out that he never said the country will collapse if bandits are tagged as terrorists.
He stated that not all herdsmen are bandits and it will be bad for the country if herdsmen turn into religious fanatics and extremists.
He said, "It is a quotation out of context, I didn't say there will be no Nigeria, I said if banditry now has turned into terrorism, fanatical religious terrorism which is there because Islam recognizes religious terrorism so if we allow the herdsmen to turn into a religious fanatic and extremist it will not be good for us as a nation.
"99% of the herdsmen are not into banditry but if you turn it into religious struggle they will just go there committing a crime, so it is not good to label them as terrorist because it will profile all herdsmen as terrorists because you are attaching it to herdsmen, you are not attaching it to an organization and if you say herdsmen are terrorist Nigeria will have a problem, the whole course will be on fire, the North, South and East will be on fire and nothing will remain of Nigeria if everywhere is on fire.
"There is a lot that can be done to improve insecurity in Nigeria such as having this kind of center instead of spending billions on hardware, let's spend it on schools and teachers. i have spoken with them to drop their weapons and embrace peace. they are ready to send their children and wives to school.
He said although the construction of the center is still ongoing, the three tiers of government can come in and partner on training the herdsmen on how they can be economically viable.
"We want Nigerians to know that the herdsman is the most peaceful. For those that have used banditry and criminality to express their grievances, we want them to know that there is another way. We call on the three tiers of government, corporate organizations and public-spirited individuals to support in bringing development to the grassroots," he added.