"My Father-In-Law Used To Beat me And Even Did it The Day Before My Husband's Burial- Lady Laments
Mary wambui got married back in 1993. Her parents in law hated her the very first day she was taken to that home. They started beating her up the first few days of her stay there.
Her first time they beat her because the husband had bought her some good chairs for her house. Her mum in-law claimed that she deserved the seats more since she was the one who gave birth to him. She came with her sons beat her up and took the seats to her own house.
Mary talked to her husband who in turn told her to be patient and learn to stay with his parents and his people. Life went on and she gave birth to seven children.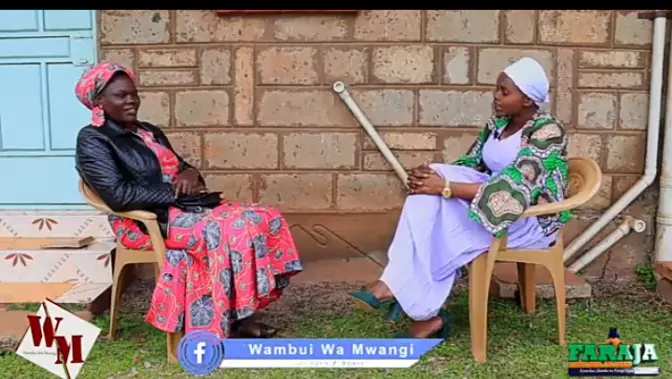 When the youngest kid was 2 years old, she decided to go out and search for greener pastures. She went and started hustling in Gikomba. She got lucky and found a well paying hustle. She went back and stole her two younger kids and went to live with them.
Life got harder in Gikomba and she had to relocate to Mombasa. In mombasa, she lived with her aunt until she was stable enough to take care of her children.
Matters got worse back at home and her kids were chased from their home. They went to leave with their mum in Mombasa. In mombasa, her husband used to come and visit her and the two were in good terms to the end.
During that period two of her children wanted to join school. One was joining highschool and the other one was joining University. The two went back to their dad and the boy who was supposed to join highschool went with his dad to buy School stuffs.
They did their shopping and he was sent home with his school shopping. The dad was left in town taking care of other stuffs.
The same day in the evening the father came home accompanied by his cousin, where he couldn't even support himself. He was taken to bed by his children. He told them to wake him up early in the morning.
When their son went to wake him up, he was already cold. They went and called their grandmother telling her that their dad was sick. Grandmother affirmed that he was dead even before he saw him.
The burial processions started but wambui and her kids were not included in any plans. The day before the burial, her father in law beat her up and her children with claims that mary wanted to stop the Burial. They had to go look for a place to sleep since the in laws didn't want to see them there.
After the burial they were chased their home and the the parents in law seized the land that they owned.
Today, mary has been forced to rent and is asking for help to help get her land back. She is afraid that if she dies today her children will be left without anything and in a rented house. She wants to get back her power and that what her kids will live to own.