"I Don't know Why I killed her, She Bought Drugs For Me To Improve My Performance" -Ex-Convict
An 18-year-old suspect identified as Malomo Jamiu has confessed to the killing of a lady identified as Omolara in Ogun State. During his interview with Punch News, Jamiu narrated the incident that led him to stab his victim and how the friends of his victim eventually apprehended him.
You may recall that the news of an ex-convict recently went viral after he allegedly stabbed a lady of the night to death in Ogun state. The suspect was apprehended by the Ogun State police command and he has since told his side of the story.
Speaking during an interview with Punch, Jamiu said, "I am 18 years old. I am a surveyor apprentice and I have already started receiving jobs. I went to a hotel on the 18th to patronize 'Oloshos', upon my arrival, I picked my choice (Omolara) and we agreed on N10,000 fees. Afterwards, I took her to my home in Oke-Aregba where we executed our deal but we had a disagreement after I paid her N8,000 but she insisted on receiving N10,000 but A told her not to worry. After we stepped outside, I dropped my phone with her and told her I was going to get her balance inside."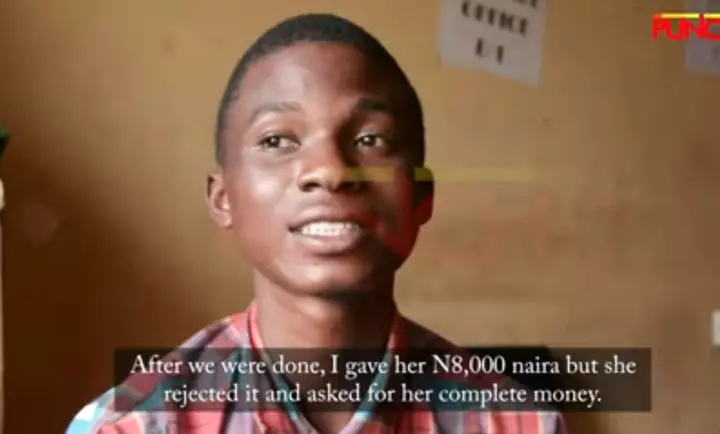 Narrating further, Jamiu said, "I discovered that I did not have any cash left after checking where I kept my money, so I picked up a knife and kept it in my pocket instead. I went back to Omolara to inquire if she will accept the N8,000 but she refused, so I stabbed her. I got scared after stabbing her so I left the scene."
Revealing how he got arrested, Jamiu revealed that Omolara's friends recognized him at a club and quizzed him. The situation eventually escalated and the police got involved.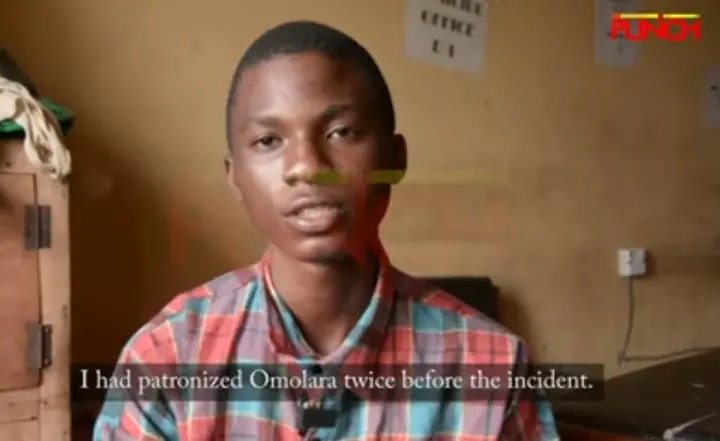 Sharing details of his history with the deceased, Jamiu said, "I had patronised Omolara twice before the incident, she would follow me to my place and leave after I had paid her. I don't know why I killed her. She had complained about my performance earlier so she bought me some drugs that day to improve my performance"
The Ogun State Police Public Relations Officer (PPRO), Abimbola Oyeyemi, confirmed the incident while revealing that the suspect stabbed his victim's neck so deeply that she couldn't make noise.