Exposed: Why I Shot Army Captain Dead- Gang Leader Confesses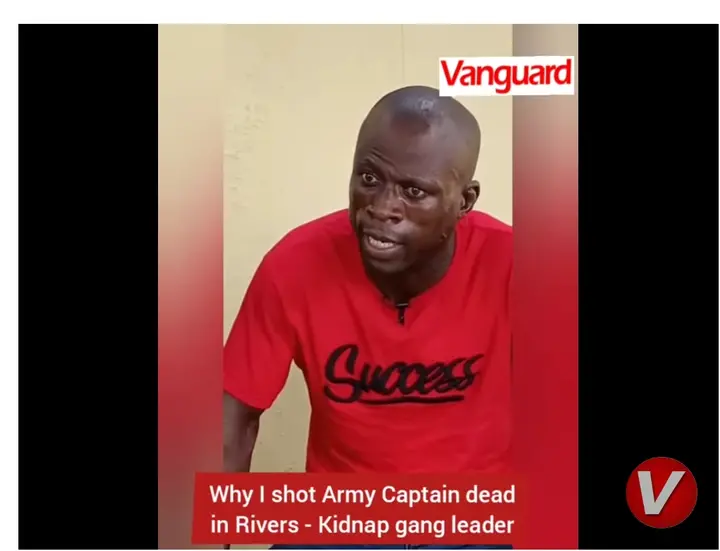 Suspect
According to a news that was published six weeks ago, it was made known that a retired Army captain, whose name was given as Captain Godfrey Zwallmark, was abducted by kidnappers, who operated a three man gang on the 18th of September, 2021 around Agwancha pipeline and was later taken to Igbo-Etche Road in Obi Local council of Rivers State.
In the video that was released by Vanguard Newspaper this morning, it was made known that the gang leader of the three man gang, who kidnapped the deceased, has given the reason why he shot the Late Captain dead. According to what he said, he made it known that on the day they abducted him, around 9am in the morning, they were taking him to their hideout, when they saw some hunters from distance and so that they can rescue the deceased, he (Godfrey) told them that he won't be going anymore or they should kill him there and due to this, the gang leader shot his leg once and he started bleeding heavily.
After they heard gunshots, the hunters tried rescuing him but, they could not, and after they shot him, they took him to their hideout, where he bled from around 9am in the morning till 7pm in the evening and due to that, he died, as he revealed it that they did not have the intention of killing him, as they did not know that the bleeding will take his life.
However, they were unable to collect ransom from the deceased's family members because, after the Captain had already given up the ghost, they called his children and demanded for N200m as ransom, as the children insisted that they will only pay the ransom, if they should do video call and they see their dad but, they have already shot him dead.