Buhari: If Nigeria Education Is Bad, Why Are Saudi, US & UK Scrambling For Nigerian Graduates?
According to a report by Ripples, President Muhammadu Buhari said on Friday that Nigerians living abroad are doing well because of the quality of education they got back home. The President, according to a statement issued by his Special Adviser on Media and Publicity, Femi Adesina, stated this during a meeting with the United Arab Emirates (UAE) Minister of Foreign Affairs, Shakhboot Al Nahyan, on the sidelines of the Paris Peace Forum in France.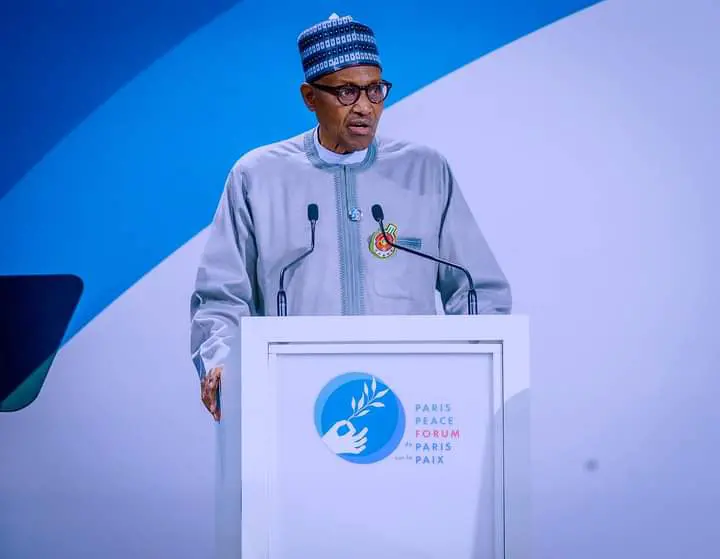 The President was right, if the standards of our education are getting worst as opined by some people, our doctors and other professionals won't be sought after from Cape to Cairo and from the UK to Saudi and US. And the majority of Nigerians that can hardly make a 1-grade point average are making 1st Class in those sane climes. Standards may not be the same as they were but outrightly rubbish our system as we sometimes do belittles us.
Many of us know people who struggled here academically only to go and excel overseas. Recently a video of doctors queueing to seek jobs in Saudi Arabia went viral, doctors trained in Nígeria, if we were that bad why come for us and not the Ghanaians? The truth is that Nigeria's standard of education is not bad. Some people have just decided to be denigrating everything in Nigeria because they don't like the system.
The fact is that Nigeria professionals are being sought after and it is as a result of their impeccable performance on their job, would Uk, Saudi, and the US employ mediocre? Some Nigerians need to stop self-hate and self-denigration, it is sickening. You can't truly study in a Nígerian university or higher institution and not excel abroad where studying is easier and the facilities are top-notch.
There is a video in which it was stated that Nígerians are the most educated sets of immigrants in the US. We had higher percentages than Americans. Nígerians are just a unique set of people. Whatever we set our hearts to achieve we can achieve. A third-class Nigerian student from Nigeria universities is a first-class student in UK or USA. Until you understand that in Nigeria universities, you are dealing with over 14 departmental courses but in UK and USA the highest is about 6. The workload in Nigeria education is much, making Nigeria students become the best outside.