They Said Buhari Is Nepotistic, Yet The Road Leading To Atiku's Hometown Was Repaired By Him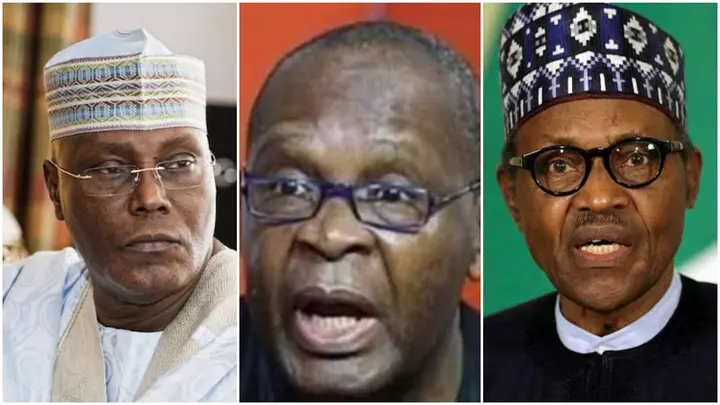 Joe Igbokwe was on his Facebook account few hours ago to share a Facebook post of Dr Uche Diala, were he talked about Atiku Abubakar, the former vice president of Nigeria.
In the shared post, Dr Uche Diala started by sarcastically saying "what a nepotistic president this Buhari is". He then went further to explain by sharing pictures of a 112km Mayo-Belwa-Jada-Ganye road leading to Atiku Abubakar's home town. He asked if people still remember who Atiku Abubakar is, he said Atiku Abubakar is the former vice president who told APC to copy PDP. Dr Uche said the rehabilitation of the road we are seeing in the pictures was done by president Muhammadu Buhari of the APC, Uche said Atiku and his PDP didn't rehabilitate the road for his people even when he was the vice president of the country.
He said president Buhari also did the same rehabilitation in Otuoke, the home town of Goodluck Jonathan, he said Buhari even gave them water and electricity. In conclusion, Dr Uche said someone should help him ask Atiku if this is the PDP he wants APC to copy.
In my opinion, I think PDP did their best while they ruled the country for 16 years, if they were not able to repair roads that lead to their hometowns, or provide electricity or water for their kinsmen, I am sure they were able to provide these amenities for other Nigerians that need it more. I see it as a sacrifice and if they had done the opposite, people might have also accused them of neglecting the other Nigerians and focusing only on their people.
Public officials are not elected by their kinsmen alone, they are elected by Nigerians from all over the country that also need these amenities too.
Read the Facebook post shared by Joe Igbokwe below.