I Faked My Death To Leave My Poor Husband But Now I Need Him Back Since He Has Money- Lady Laments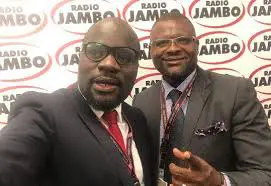 Today Thursday in Radio Jambo Gidi na Ghost morning show one lady narrated on how she faked her death inorder to leave her poor husband. The lady whose name was not disclosed she called to get an advice from people on what to do since she wants her husband back.
The lady said that she met the man and they loved each other so much even though he had no money. They stayed together for some months and the man got a good paying job that he used to cater for the family needs. They continued to stay together until the Corona pandemic started and things were not good at all.
The man lost his job during the pandemic and he lost everything now the lady thought how to leave him since he could not cater for her needs. She decided to fake her death so that she can leave him without any issue. She went to her relatives and looked for a new phone and wrote her husband a short message pretending to be her cousin.
She wrote her husband on her death and on the arrangements of the burial and she stated that since it's Corona time no body will be allowed to attend the burial unless for the close relatives. She even wrote the names of those to attend while her husband's name was missing. All through was pretending to be a cousin.
After the "burial" the lady decided to follow the life of her husband on Facebook. The man still was mourning the death of her wife whom he did not even attend her burial. The lady was keen following him until one day she saw him posting good pictures showing that he is now well off.
The lady new that her husband has now a good paying job through his posts on Facebook and she now wants him back but the problem is she is now "dead".
What advice can you give to these lady?