The fact now is that the 2023 Presidential hopefuls in the APC without anybody asking one or two to step down or not, are weighing their pros and cons and technically withdrawing from the 2023 race track, unlike before, where so many names will pop up at the mention of 2023 Presidency, according to a report by Punch, it seems now to be narrowed down to Asiwaju Bola Ahmed Tinubu and Vice-President Prof. Yemi Osibanjo at least in the APC southern region, others are trying to align with one of them in lieu with their interest.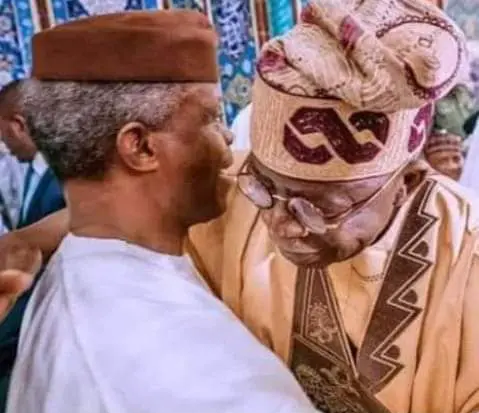 Was there a likely rift between Tinubu and Osibanjo? The truth is No!, There is no basis for such. What would make him pitch his tent against his political benefactor, which has not disturbed him so far in the office as VP? Or that he mobilize folks against him in the office. That Osinbajo didn't go to visit Asiwaju in London is the best thing he can do, if he does, it would create "unnecessary political debate" in this country, avoidable ridiculous questions will be asked.
We are in a politically sensitive moment when every step must be calculated because there are people who are ready to mis-interpret them. Buhari visited Jagaban because he was in London, the NASS is an independent arm of Govt. Fashola, Aregbe, Sunday Dare, and the host of them didn't visit him too. There are protocols and guidelines in every sphere. You have to play loyalty and solidarity here with wisdom. Governors can go see him, they are a state CEO. But Ministers, VP, the opposition will launch on it and term it as wasting state resources.
On having a consensus candidate between BAT and the VP, the Presidential ambition of VP is subjective, unless Tinubu doesn't have Presidential ambition come 2023, but if he (Asiwaju) nurtures such ambition, Osinbajo's won't talk about Presidency let alone go into a discussion with his Boss on who to step down for each other. Let keep maintaining the atmosphere, the Southwest is privileged to have two strong and viable candidates in the APC when it comes to the 2023 Presidential race. it such a great political advantage, both candidates have a pass mark in some issues that set us apart in this country.